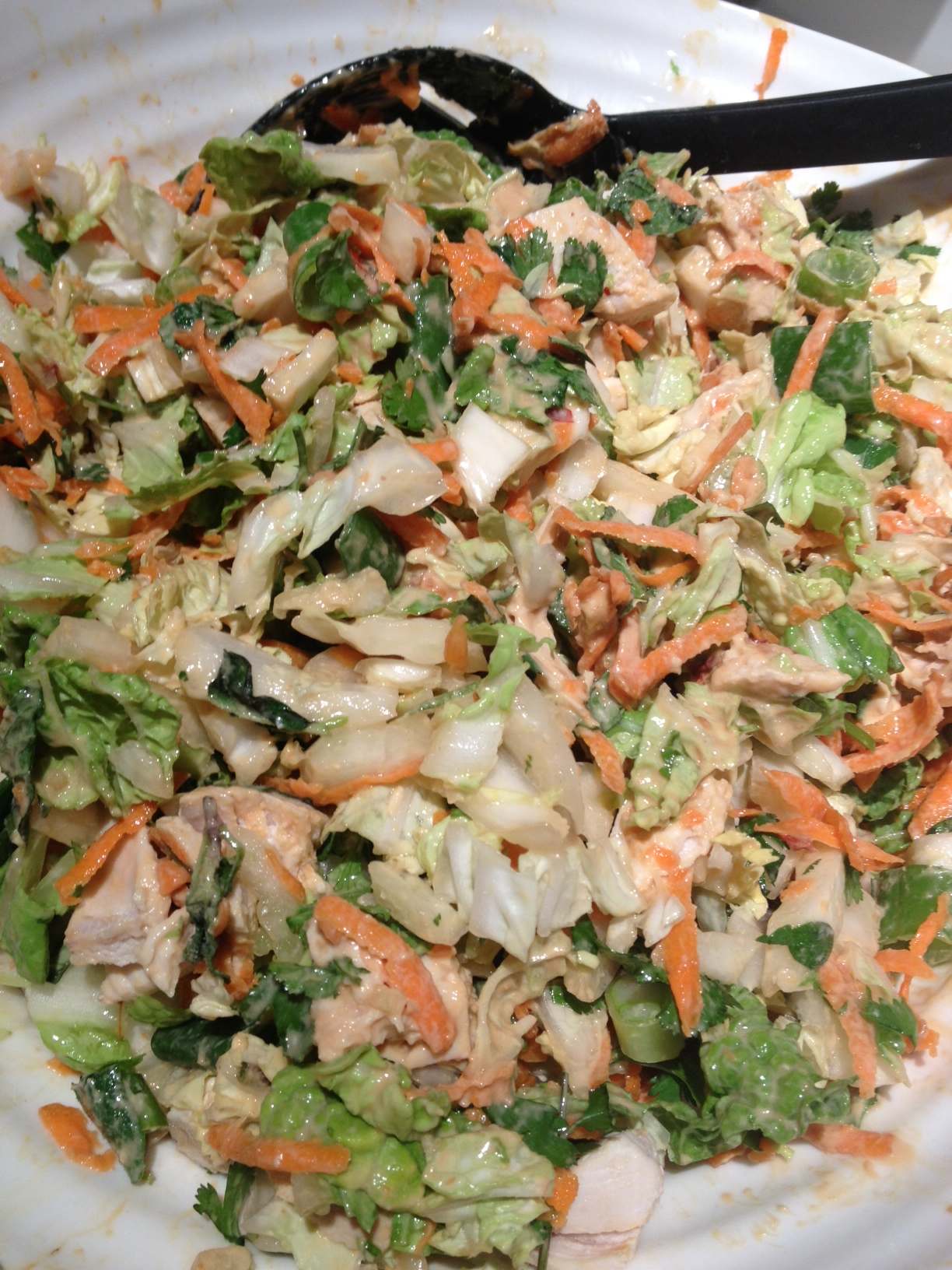 This is such a fresh, crunchy, zesty, delicious salad.
It's great for a BBQ as a side dish (you could leave out the chicken if you preferred), but also stands up equally well as a filling main course.
It is also quite economical as you only use one large chicken breast, a selection of veggies, and the dressing is made of store cupboard basics.
You will need a really big salad bowl for this one, as it makes quite a lot. Prepare to be dazzled with flavour!

Ingredients:
For the salad:
1 large chicken breast
½ Chinese cabbage, finely chopped
1 large carrot, peeled and grated
3 green shallots, chopped
Small bunch of fresh coriander
½ cup of crushed cashews, peanuts or almonds (tamari almonds are great if you can find them)
For the dressing:
1 clove garlic, peeled and finely chopped
Thumb size piece of ginger, peeled and finely chopped
1 small red chilli, finely chopped (optional)
2 tbsp soy sauce
Juice and zest of 1 lime
1 tbsp sesame oil (or you could use olive oil)
4 tbsp (100% peanut) peanut butter
6 tbsp water
6 tbsp natural or Greek yoghurt
Method:
Bring a large saucepan of water to the boil. Chop your chicken into 6 chunks and place into the boiling water.
Simmer the chicken for 15 minutes or until cooked through. Set aside.
When cooled, shred the chicken.
Place the cabbage, carrot, coriander and shallots into the salad bowl.
Add the cooled chicken.
To make the dressing, simply place all of the ingredients into a bowl and whisk to combine.
Pour the dressing over the salad and mix well.
Serve into bowls and sprinkle over the nuts of your choice.
Serves: 6. Calories per serve: 230.

GET YOUR 10% DISCOUNT
If you are ready to lose weight then the Lose Baby Weight plans offer a healthy and safe exercise and diet routine and you can get a 10% discount by using code LOYALTY at the checkout
PLUS our BEST SELLING 28 Day Diet & Exercise Plan is available as an 84pg Printed Book and you can get your copy here 
Plus our NEW CALORIE BIBLE is now available – get your copy today! Only $19.95 and a must have in your handbag!
Plus don't forget to sign up for our Get Ready For Summer Challenge – it's free and you can sign up here.
Click HERE to see our shop