Today we are sharing this healthy, Chicken Parmigiana recipe, which is an example of the type of recipe you will find in the 28 Day Weight Loss Challenge.
Have you heard about the 28 Day Weight Loss Challenge and want to know what you're missing out on?
Well one thing you'll miss out on if you're not signed up for the next Challenge (they run EVERY month), is 28 days of healthy eating diet plans, including easy to prepare breakfasts, lunches, dinners and snacks.
How fantastic – you don't need to think about what to have for dinner for a whole 28 days!
All the recipes throughout the Challenge are completely customisable and can be adjusted to suit your tastes and your family's needs and budget.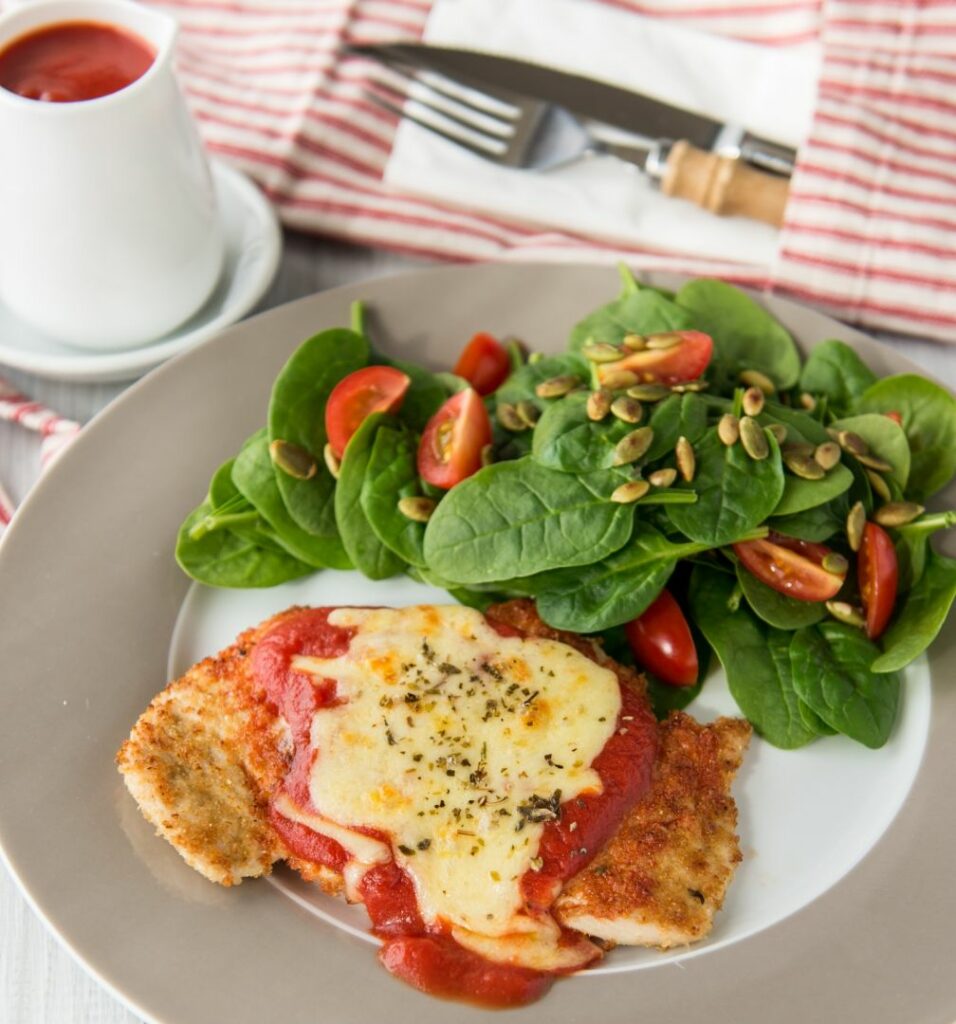 A favourite in so many families and now you can create this tasty meal in a healthy way. Increase quantities to serve the whole family.
Ingredients (Makes 1 serve)
100 grams of chicken breast fillets
1 & 1/2 tablespoons wholemeal breadcrumbs (15 grams)
2/3 tablespoon grated Parmesan (8 grams)
1 teaspoon extra virgin olive oil (5 mls)
1 & 1/2 tablespoons reduced-fat mozzarella cheese (15 grams)
1/4 cup tomato passata (65 mls)
1 cup baby spinach (30 grams)
1/4 tomato (25 grams)
4 teaspoons pumpkin seeds (pepitas), roasted (8 grams)
1 teaspoon lemon juice (5 mls)
Method
Grate the mozzarella and chop the tomato.
Tenderise the chicken to ½ cm flat with a tenderiser hammer. If you don't have a tenderiser then you can cover the chicken with baking paper and hit with a rolling pin.
Mix the bread crumbs (use gluten free crumbs if required) and parmesan cheese together.
Brush the chicken with half of the olive oil and press the breadcrumb/parmesan mixture over both sides. Preheat the oven grill to high.
Heat the remaining oil in a pan and cook the chicken for about 3 minutes on each side.
Place the chicken on a lined baking tray and top with the tomato passata and mozzarella cheese. Place tray under grill for 3 mins or so until cheese is bubbly and golden.
Toss together baby spinach, chopped tomato, pumpkin seeds and drizzle with lemon juice.
Serve parmigiana with salad on the side.