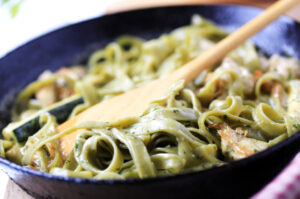 If you love the flavour of pesto but don't love the calories, try this recipe on for size.
The creaminess of the avocado is the base for some amazing flavours which come from the garlic, coriander and lime.
Serve it hot for dinner and then enjoy it as a delicious cold lunch the next day.
Avocado is a versatile fruit that not only tastes great but also has many health benefits.
The fibre in avocado helps to keep you fuller for longer; it contains folate which is great for heart health as well as for pregnant women who need folate for their unborn child.
Ingredients:
300g dry pasta of your choice
1 cup cooked chicken, shredded
1 ripe avocado
1 fresh bunch of coriander
Juice of ½ a lime
3 tbsp natural or Greek yoghurt
1 tsp garlic
Salt and pepper to taste
1 small red chilli, de-seeded and finely chopped, to serve (optional)
Method:
Cook pasta according to the instructions. Drain and set aside to cool down.
Peel your avocado and remove the seed.
Blend in a food processor with the coriander, lime juice, yoghurt and garlic until it's creamy.
Season to taste and add to the chilled pasta with the chicken.
Toss the pasta to coat with the sauce and serve sprinkled with some freshly chopped red chilli.
Serves: 4. Calories per serve: 395.
GET YOUR 10% DISCOUNT
If you are ready to lose weight then the Lose Baby Weight plans offer a healthy and safe exercise and diet routine and you can get a 10% discount by using code LOYALTY at the checkout
PLUS our BEST SELLING 28 Day Diet & Exercise Plan has now launched as an 84pg Printed Book and you can get your copy here – with free express postage if you order the book on its own
Click HERE to see our shop