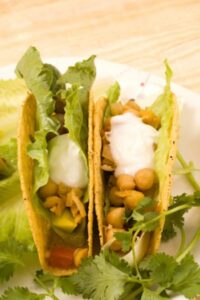 Friday night calls for something a little special for dinner.
You've made it through another week, and the weekend is just kicking off.
Adults and kids will love these chicken and chickpea tacos, stuffed with a freshly made salsa and topped with cheese.
Tacos are great as they combine the hard, crunchy shells with the hot, spicy and soft centres to create a feast for the senses.
Fill them with nutritious veggies, legumes and lean protein and you've got yourself a healthy meal.
Ingredients:
1 avocado, peeled and cut into chunks
2 tomatoes, diced
1 red chilli (optional), finely sliced
Juice of 1 lime
Salt and pepper to taste
200g chick peas, drained and rinsed
1 cup cooked and shredded BBQ chicken (or cook 1 chicken breast)
Small bunch of coriander, stems finely chopped
6 taco shells
100g lettuce
½ cup of grated cheddar cheese
4 tbsp natural yoghurt, to serve
Method:
Place your avocado and tomato into a bowl. Add the chilli, if using, and squeeze over the lime juice. Season to taste.
Add your chick peas and chicken, and sprinkle through the coriander leaves and the chopped stems. Mix everything together.
Lay out a tea towel and use it to stand your tacos up. Place the lettuce into the taco shells, then top with the filling and the cheese. Dollop the yoghurt on top to serve.
Serves: 6. Calories per serve: 240.

GET YOUR 10% DISCOUNT
If you are ready to lose weight then the Lose Baby Weight plans offer a healthy and safe exercise and diet routine and you can get a 10% discount by using code LOYALTY at the checkout
PLUS our BEST SELLING 28 Day Diet & Exercise Plan has now launched as an 84pg Printed Book and you can get your copy here – with free express postage if you order the book on its own
Click HERE to see our shop