I'm a mum to two girls – one aged 2 years and the other is 7 months old.
I put on 21kg when pregnant the first time, and lost the first 10kg easily but then really plateaued.
I was still carrying an extra 5kg when I fell pregnant for the second time a week after my eldest daughter's first birthday.
I vowed not to gain so much weight this time, but I did. I didn't eat terribly but I had bad pelvic pain and could barely walk some days.
Fast forward to September 9th. My daughter was born after a quick and relatively easy labour at 39 weeks.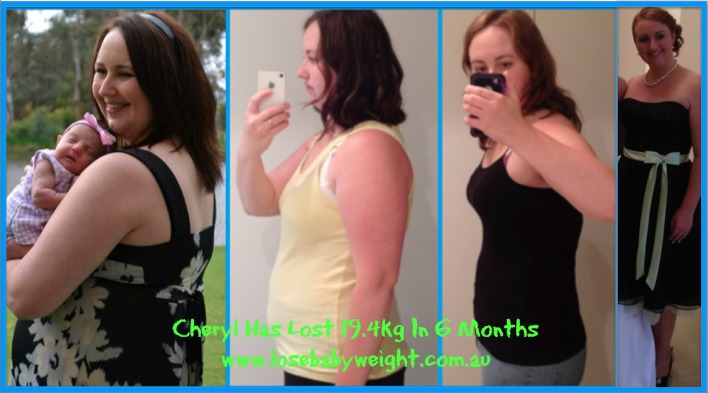 6 days later my parents renewed their vows for their 30th wedding anniversary. That is where my 'before' photo was taken and was also when I realised I needed to do something.
I'd never been so big in my life.
I set myself a goal and a deadline. 73kg (pre-pregnancy weight) and March 23rd (the date I was to be Matron of Honour at my sister's wedding).
My biggest issue was missing meals and feeling too time and energy poor to change that. A friend suggested the Healthy Mummy Smoothies and I never looked back.
I started with Lose Baby Weight towards the end of October. I raved about the smoothies to my friends.


I love that it's not a boring day in, day out shake that's the same flavour. I have tried many different combinations and find them so easy to drink.
I keep my stab mixer on the bench and it takes me about 2 mins to make a convenient 'meal' that fills me up and I can drink it while getting other things done.
The website has been really helpful in providing easy but tasty snack and meal ideas too.
I also started trying to get out for a walk as many days as possible – sometimes easier said than done with a reflux baby and a toilet training 2 year old – but I did my best.
And the weight started coming off. I am so happy.
Some days I replace breakfast and some days breakfast and lunch. I never wanted to lose weight too quickly as I'm breastfeeding and had lots of supply issues with my eldest daughter, so didn't want to risk jeopardizing that. If anything, the smoothies have helped my milk supply as they are breastfeeding friendly.
Mid-February 2013 I hit my goal weight (yay), fit back into my pre-pregnancy clothes, and had lost so many centimeters off my body it was almost unbelievable.
I started getting lots of comments from people noticing how good I was looking 🙂
Thank you so much Lose Baby Weight for helping me to get there.
Oh, and on my deadline date, I weighed in at 70.6kg! My next goal is 68kg and my ultimate goal is to be somewhere between 62-65kg, and to maintain that.
I hope to be able to check in again in a few months and share more good news with you.                    
– Cheryl Skeen

GET YOUR 10% DISCOUNT
If you are ready to lose weight then the Lose Baby Weight plans offer a healthy and safe exercise and diet routine and you can get a 10% discount by using code LOYALTY at the checkout.
Click HERE to see our shop