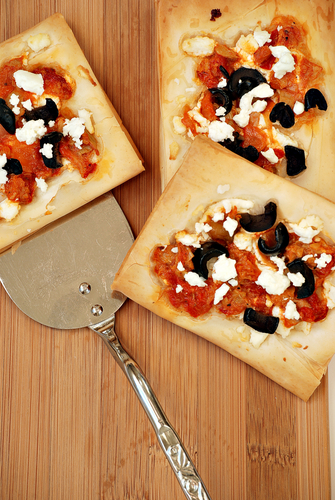 This is a quick and easy recipe that makes the most of good quality ingredients to create a show stopping lunch or dinner.
Serve with a crisp green salad, or why not try it with our Colourful Quinoa Tabbouleh.
Lower in calories and fat than traditional pastry, filo pastry is a great way to get the 'pie feeling' without undoing all your hard work.
You could also tailor this to your tastes. Simply choose topping ingredients that are already cooked in order to ensure the tart is done to perfection.
Why not try:
Steamed asparagus, feta and chickpea tart
Roasted red capsicum, ricotta and steamed spinach tart
Roast pumpkin, pine nut and sundried tomato tart
Ingredients:
4 sheets of filo pastry
Olive oil spray
200g punnet of cherry tomatoes
1 tbsp balsamic vinegar
2 tbsp red capsicum pesto (or use green pesto if you can't find red)
10 pitted olives
½ cup crumbled goat's cheese
Salt and pepper to taste
Method:
Preheat your oven to 200C and line a baking sheet with paper.
Chop the tomatoes in half and place in a bowl with the balsamic vinegar. Season to taste and set aside.
Place one sheet of filo pastry onto the baking sheet and spray with olive oil. Add another layer and spray each layer with olive oil so they stick together.
Chop the pastry in half to make two even rectangles.
Place another baking tray on top of the pastry to weigh it down.
Bake in the oven for 10-12 minutes, or until the pastry is golden and crispy. Set aside to cool.
Dollop the pesto onto the two pieces of pastry and spread over the centre, leaving a border.
Layer the tomatoes over the pesto, and bake for another 10 minutes.
Throw on the olives and goats cheese and bake for a final 5 minutes. Serve hot.
Serves: 2. Calories per serve: 320.

GET YOUR 10% DISCOUNT
If you are ready to lose weight then the Lose Baby Weight plans offer a healthy and safe exercise and diet routine and you can get a 10% discount by using code LOYALTY at the checkout
PLUS our BEST SELLING 28 Day Diet & Exercise Plan is available as a 200pg Printed Book and you can get your copy here 
Plus our NEW CALORIE BIBLE is now available – get your copy today! Only $19.95 and a must have in your handbag!
Plus don't forget to sign up for our Get Ready For Summer Challenge – it's free and you can sign up here.
Click HERE to see our shop