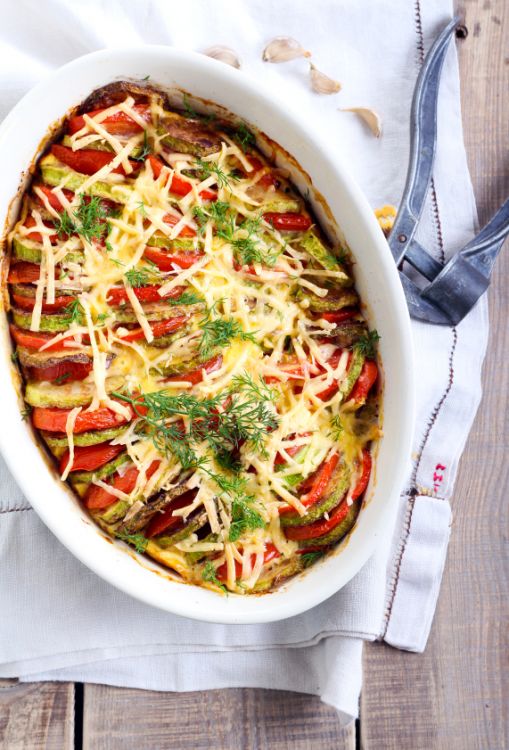 This simple Cheesy Veggie Bake is suitable to include in your healthy eating plan when you want to lose pregnancy weight.
Using only a few simple, fresh ingredients, this nutritious dish could serve as a side dish for a family meal or a light lunch or dinner by itself.
Zucchini and tomatoes are two excellent ingredients to use  in your cooking because they are packed with vitamins and minerals and can usually be bought at a low price, making them a top choice for people watching their budget.
Adding other vegetables is a possibility, with slices of eggplant, capsicum or squash all good options to include also.

Ingredients:
6 large, ripe tomatoes, sliced
6 large zucchini, sliced
2 cloves garlic, crushed
1 brown onion, peeled and sliced
100 grams reduced fat cheddar cheese, grated
1 tablespoon olive oil
Handful fresh dill
Cracked pepper
Method:
Preheat an oven to 180 degrees Celsius.
In a saucepan heat the oil over medium heat and once hot, saute the onions and garlic in the oil while stirring. Cook for a few minutes until the garlic and onion are translucent and fragrant, then remove from the heat and set aside.
Grease a large casserole or baking dish with a small amount of olive oil (or olive oil spray), then carefully arrange the tomato and zucchini in the dish, by sitting the tomato and zucchini pieces upright next to each other snugly.
While arranging the vegetable pieces, add spoonfuls of the onion and garlic mixture to the dish, by scattering the onion and garlic in between the layers of the zucchini and tomato.
Once all the vegetables have been used, cover with foil and bake in the oven for 15-20 minutes at 180 degrees.
Remove the dish from the oven, remove the foil from the dish then top with cheese and place back in the oven to cook for another 10 minutes, until the cheese melts and becomes golden brown.
Remove from the oven and top with cracked pepper and fresh dill and serve.
Serves: 4. Calories per serve:  165
Need to stock up on Healthy Mummy Smoothies? Then see our shop here
And join our 28 Day Weight Loss Challenges here