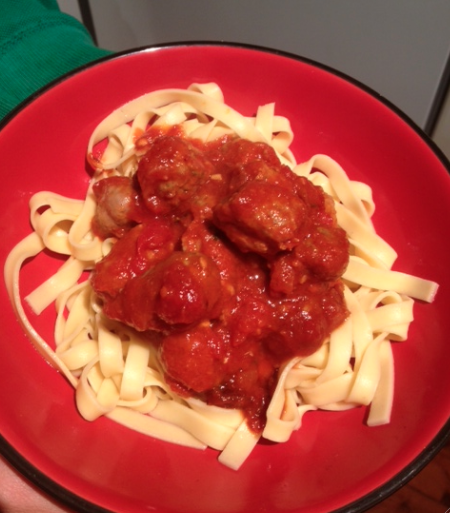 These meatballs came about as I got over-excited at the local deli and bought two packets of discounted gourmet snags that needed to be cooked that day.
When I got home I thought 'what am I going to cook tonight that can help me use up 10 gourmet sausages?'
And the rest is history.
As we often say at Lose Baby Weight, it is always use the best quality ingredients that you can afford.
This recipe wouldn't be as much of a healthy option if you were to use cheap and cheerful sausages from the supermarket.
But if you can find some high quality sausages (read: low fat, no sugar, no additives) from your butcher, deli or supermarket you'll be fine.
We have used pork here but any meat would work for this recipe. Beef would be great, or even half pork and half beef would be lovely.
It's great to have a few simple recipes like this up your sleeve for those nights when you don't feel like cooking something complicated.
Better still, keep a stash of them in the freezer (already cooked) and just take them out in the morning to defrost in time for dinner that night.
I also freeze them in small portions for my toddler with some pasta, it is one of his favourite meals.
Serve them any way you like. With pasta, in a wrap, with some steamed veggies, with a crispy salad, or on their own.
Ingredients:
10-12 gourmet pork sausages
1 tbsp olive oil
1 large red onion, peeled and finely sliced
2 garlic cloves, peeled and finely sliced
2 sprigs of fresh thyme (or use 1 tsp dried)
1 sprig of fresh rosemary (or use 1 tsp dried)
700g jar of passata
400g tin of diced tomatoes
½ cup low fat cheese, grated (optional, but very tasty)
Method:
Take a very sharp knife and make a cut along the length of each of the sausages.
Remove the casings and then chop the sausage into small bite size 'meatballs'
Heat the oil over med/high heat.
Add the garlic and onion and cook for 4-5 minutes, stirring regularly.
Add the passata and the tinned tomatoes and bring to the boil.
Reduce the heat and add the cheese (if using), thyme and rosemary, mix well.
Place the meatballs into the pan, spreading them out so they are not touching each other too much.
Give them a bit of a stir to ensure they are well coated in the sauce.
Bring to the boil again, then reduce the heat and cook with the lid on for 45-60 minutes.
Stir 2-3 times during the process so they don't catch on the bottom of the pan.
Stir and serve.
Serves: 6. Calories per serve: 260 (meatballs only) or 420 (served with 100g fresh fettuccine).

GET YOUR 10% DISCOUNT
If you are ready to lose weight then the Lose Baby Weight plans offer a healthy and safe exercise and diet routine and you can get a 10% discount by using code LOYALTY at the checkout
PLUS our BEST SELLING 28 Day Diet & Exercise Plan is available as a 200pg Printed Book and you can get your copy here 
Plus our NEW CALORIE BIBLE is now available – get your copy today! Only $19.95 and a must have in your handbag!
Click HERE to see our shop