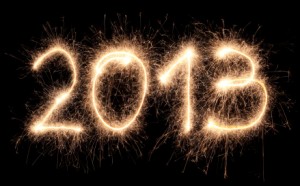 While we're eagerly awaiting Christmas and all that it brings with it, 2013 is just around the corner, and discussions surrounding plans for welcoming in the new year are already doing the rounds.
You could be forgiven for wanting to focus all your attention on surviving Christmas with your family, but if you've got a small sliver of brain space left, starting to think about what you could do to usher in 2013 that's both fun AND family friendly, means you won't be at a loss on the 31st.
While plans certainly take a different direction when kids are involved, there's no reason why you can't enjoy the dial flipping from December to January and all the excitement it brings.
And while you may not make it till midnight (I struggled even before my baby arrived!), heading out in the early evening to do something a little bit special or staying in with plenty of fun activities is a lovely way to signal the arrival of a new year and all that it brings with it.
The weather in Australia lends itself to outdoor celebrations, making it a little easier to make plans than in a colder, wetter climate where your options are limited to indoor activities.
Kid-friendly venues, like cafe's or pubs with child-friendly beer gardens or outdoor spaces can also be a great option for a meal or drink with friends.
If you prefer to eschew the crowds and fuss altogether, planning a celebration at home can be just as much fun as heading out (without all the packing and parking stress!)
The most important thing to remember when planning for NYE is to choose something that will suit you and your family and allow you all to relax and enjoy yourself, without stress.
Bearing all that in mind, we've compiled our top ideas for celebrating NYE with your brood.
Top child friendly NYE activities
Pack a picnic – A picnic at your favourite park/lake/beachside spot is a fabulous, relaxed way to welcome in 2012. Plenty of room for curious kiddies to roam and the option to pack your own, weight loss friendly food makes this a winner for families big or small. Depending where you live and where you want to go, the council may have scheduled activities for outdoor spaces in their area. Check your local website for details.
Laid back BBQ – If you prefer a less crowded option, hosting a BBQ is another great option. Whether you decide to celebrate at your own home, a friends or a local secret spot with BBQ facilities, you'll be rewarded with space, amenities and plenty of yummy food.
Dress things up – If you decide to stay home, donning your favourite frock, letting the kids pick their fave outfits (or picking out bubs cutest clothes) and preparing some yummy nibbles as a family is an easy but enjoyable way to usher in the new year.
Camp out – Got a decent sized backyard? A NYE camp out can be a memorable way to spend the last day of December with older toddlers and pre-school/primary age children. Camping out at home saves the hassle of packing up and toting tents, chairs and sleeping bags to an actual campground and also means that late night toilet trips or tears are easily solved by popping into the house. Just remember to pack the Aeroguard and a high powered torch!
Throw a daytime bash – If you've got little ones with early bedtimes, celebrating during the day can be the least painful option. Why not ring in midday as opposed to midnight, complete with party poppers, party hats and a countdown, followed by a yummy lunch? Kids will love the excitement and it gives you all afternoon to recover.