Every month, a mum who is on the Lose Baby Weight plans will be writing about their healthy eating and  weight loss diet journey, exercise, ups and downs and will be here to help motivate YOU and THEMSELVES along the way.
If you'd like to become our Motivating Mum for the month click HERE to find out more.
Cat's Weight Loss Update
Hi Mums!
I finally cracked the 80kgs bracket and am now into the 70's and have now lost 25kg. I never thought it would happen and I am so happy I found this weight loss diet! This has made me so much more determined for the rest of the month to see if I can make it to my 78kgs goal 😀 Stay tuned as I keep going with this weight loss diet on the Lose Baby Weight plans!
I have had some amazing weight loss results over the past 2 weeks! But in saying that I have had quite a few obstacles come my way also. My usual "normal" work schedule has been thrown around a little bit and I have been working a few extra shifts and different hours, definitely challenging my time management and planning skills.
Also, it's December, which means trying to get the Christmas shopping done and battling the shops along with normal day to day life. I have been planning my 28 Day Plan healthy eating meals especially dinners for the week,  BEFORE going grocery shopping which has definitely saved me time, money (little wastage) and unnecessary calories (throwing meals together last minute without thinking of the nutritional value or buying take out).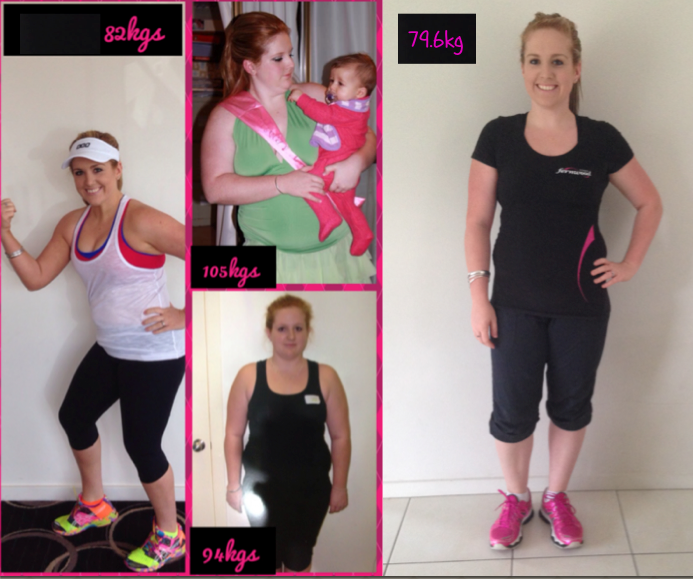 One of my tricks I have been utilising heaps over the last few weeks is prepping my meals up to a day ahead! Sometimes I will cook 2 dinners. I know, it sounds crazy but for recipes like the roast veggie salad with Turkey (28 Day Plan) it certainly helps. For example, Ill chop up all of my vegies (takes 5 minutes) and pop them into the oven to roast while I bath the kids of cook our dinner for that evening. Its great!
My husband has been really supportive of my weight loss diet and keen to try out the recipes from both the 28 Day Plan & the Spring and Summer cookbook. Our favourite so far is the Fish with Lemon and Capers (from the 28 Day Plan). We have adapted some of the recipes so they kids are still eating with us; they have also been enjoying the food- Win win!
My exercise has really only just consisted of my Healthy Mummy Workout DVD, (which is excellent exercise to lose belly fat) incidental exercise (stacks of walking around the shops while looking for Xmas presents) & the occasional workout I squeeze in at work before or after a shift. The DVD is my saviour! Having the option of 10 & 15 minute workouts are great for me. It means I can pop the kids down for a nap and do a quick workout before heading off to work or if I have time doing several of the workouts! It means I can work out even if it's raining outside or boiling hot. I really haven't been able to get to as many classes at the gym as I would have liked to but I am still trying my best to get in some exercise where I can.
CAT'S TOP 5 TIPS
PLAN! Plan ahead, pack snacks, cook doubles, freeze- whatever it takes!
SNACK!- Pack apples, almonds, tinned tuna & seaweed cracks to take with you so you don't go hungry
DRINK water- the more, the better!
LIST- Make a shopping list, don't wing it! You'll end up buying things you don't need.
GET OUT- Pop the kids in the pram, on the bikes/scooters and get outside. The vitamin D and fresh air make a big difference- the walking is just an added bonus.
25/11/13
Weight- 81.9kgs
Bust- 99cm
Waist- 103cm
Hips- 109cm
Thigh- 66cm
Arm- 32.5cm
8/12/13
Weight- 79.6kgs
Bust- 98.5
Waist- 101.5cm
Hips- 106cm
Thigh- no change
Arm- 32cm
Cat Kroon (Christ)