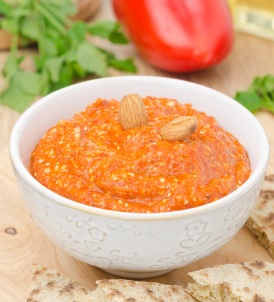 When you are trying to lose weight, the dip section at the supermarket tends to be pretty much off limits.
So what to do when the mood strikes? Make your own healthy version of course!
Today we have 2 delicious but very different recipes for some healthy dips that you can enjoy at home.
Unlike commercially prepared dips, these contain no added sugars, oils or other additives.
Serve them with sticks of celery, cucumber or carrot for a guilt free snack. They also work well when you are entertaining – nobody needs to know that they are healthy.
Capsicum and Almond Dip
Ingredients:
2 red capsicums (or you could use a jar of roasted capsicums)
Handful of slivered almonds, lightly toasted under the grill
Handful of Parmesan cheese, finely grated
½ a small red chilli, de-seeded and finely chopped (or to taste)
1 clove garlic, peeled and chopped
Juice of ¼ of a lemon
Method:
Slice the capsicums into large pieces, discarding the seeds.
Place onto a tray under the grill and cook until blackened.
Put the cooked capsicum into a plastic bag to cool down and sweat, which will help to loosen the skin.
Remove the skin of the capsicum and discard.
Place capsicum flesh into a food processor with all other ingredients and process until smooth. Season to taste.
Serves: 6. Calories per serve: 60.
Wasabi Pea Dip
Ingredients:
500g frozen peas, thawed on the bench
1 cup of silken tofu
1 bunch of fresh coriander leaves
3 green shallots, chopped
Juice of ¼ of a lime
1 tsp wasabi paste
Method:
Place all ingredients into a food processor and blend until smooth. Season to taste.
Serves: 6. Calories per serve: 108.

GET YOUR 10% DISCOUNT
If you are ready to lose weight then the Lose Baby Weight plans offer a healthy and safe exercise and diet routine and you can get a 10% discount by using code LOYALTY at the checkout
PLUS our BEST SELLING 28 Day Diet & Exercise Plan is available as a 200pg Printed Book and you can get your copy here 
Plus our NEW CALORIE BIBLE is now available – get your copy today! Only $19.95 and a must have in your handbag!
Plus don't forget to sign up for our Get Ready For Summer Challenge – it's free and you can sign up here.
Click HERE to see our shop