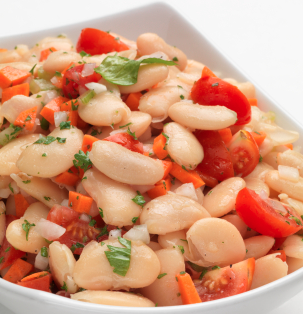 One of the best ways to lose any pregnancy weight is to eat lots of low calorie, low fat foods that are still filling and on the Lose Baby Weight plans we can help you to do this.
That way, you're full up without having to take in lots of calories. The fuller you are, the less likely it is that you'll snack on low quality foods like ready meals, crisps and chocolate.
Veggies contain lots of dietary fibre, which is one of the reasons that they can be so filling. Dietary fibre is insoluble, meaning that it cannot be digested by the body – but it also swells up when it comes into contact with water.
Consuming dietary fibre will keep you full, especially if you wash it down with a big glass of water – and then because you have to get rid of the fibre, as your body cannot digest it, you have to go to the toilet. Dietary fibre not only keeps you full, helping in the fight against fat loss, but it also helps to improve digestive health.
The stronger and healthier your digestive system, the more vitamins and nutrients you take in from your food – meaning that you take in more goodness from what you eat without having to do anything other than tuck in!
The increased absorption of vitamins and nutrients could also boost weight loss, too. Vegetarian food doesn't have to be boring – we've come up with a deliciously fragrant summer salad recipe, perfect for lunch or dinner or for serving at a BBQ.
Cumin Butter Bean Salad
Ingredients
1 x 400g tin drained butterbeans
500g cherry tomatoes – find tomatoes that are on the vine if possible for the best flavour
1 small red capsicum
1 small yellow capsicum
1 small red onion
Small handful each freshly chopped mint and coriander leaves
3 tbsp. extra-virgin olive oil
2 tbsp. lemon juice
1 tsp. ground cumin
Salt and pepper
Directions
Chop the tomatoes into quarters. Slice the capsicum in half lengthways, then finely dice. Slice the red onion in half and then thinly slice into thin half-moons. Separate the half-moons with your fingers.
Whisk together the oil, lemon juice, cumin, salt and pepper. Taste and if you think it needs more lemon juice or cumin, add a little more.
Place butterbeans, tomatoes, green capsicum, yellow capsicum, red onion, mint, coriander and dressing into a large bowl. Toss and add a little more seasoning.
Cover and leave at room temperature for around an hour before serving – this lets all of the flavours meld together. Serve at room temperature.
Recipe serves 2. Calories per serving: 330. This would serve two as a hearty lunch – however, it could serve 4 as a starter or even 8 as a side dish. If you like, scatter over some crunchy pine nuts or crumble over a little goat's cheese.
GET YOUR 10% DISCOUNT
If you are ready to lose weight then the Lose Baby Weight plans offer a healthy and safe exercise and diet routine and you can get a 10% discount by using code LOYALTY at the checkout
PLUS our BEST SELLING 28 Day Diet & Exercise Plan has now launched as an 84pg Printed Book and you can get your copy here 
Click HERE to see our shop