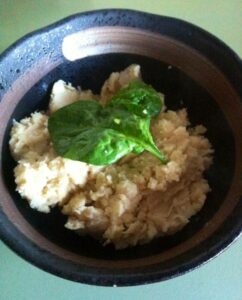 There are some nights when you need a quick, one pot meal that can be on the table in less than 15 minutes. This is usually the case in our house on a sunday after a busy day out, or on the night before grocery shopping when the fridge is almost bare and motivation to cook is at an all time low.
When you're trying to lose weight and follow a healthy eating plan however, your quick and easy meal options can seem a little more limited. Many of your go-to dishes may be off the menu, temporarily at least, and those that you've found a healthy alternative to, may require more time (and ingredients) than you have handy.
Having a couple of dishes up your sleeve that require the bare essentials means that you can have a healthy, delicious and diet friendly meal on the table, without having to resort to greasy (and expensive) takeaways or something less than waistline friendly.
Beans and legumes can be your saviour when it comes to fast, healthy food. Often overlooked in favour of other forms of meat based protein, beans are practically a meal in a can. The white varieties like butter or lima beans are packed full of fibre, iron and protein, along with essential vitamins and minerals like magnesium and folate.
Add in the fact that they are low in calories, fat and sugar, and you've almost got the perfect food source. These nifty little legumes can also help balance and stabilise blood sugar and cholesterol levels, making them the perfect addition to your weight loss diet.
This recipe combines butter beans, garlic, rosemary and lemon with spinach and kale to create a rich, creamy mash that's packed full of good stuff. The beans themselves are hugely nutritious, but the addition of potent anti-inflammatory garlic, iron- rich spinach and leafy green, antioxidant filled kale makes this a meal a bowl of healing, strengthening goodness.
Enjoy!
 Ingredients
2 x 400g cans of butter beans, drained and well rinsed
1 clove garlic, crushed
Juice and zest of 1 lemon
1 sprig of rosemary
3 tbsp of olive oil
1 cup baby spinach leaves, roughly chopped
1 cup kale leaves, stems removed, roughly chopped
Pinch of sea salt flakes
Directions
Heat 2 tbsp of the olive oil in a medium sized saucepan over low-medium heat.
Add the garlic and allow it to simmer gently, flavouring the oil.
After 2 minutes, add the rosemary sprig and the lemon juice and zest.
Stir to prevent any of the ingredients catching.
After a couple of minutes, remove the rosemary sprig and set aside.
Add the two cans of butter beans to the saucepan and stir to coat well in the oil mixture.
Once beans have warmed and softened, start mashing with a potato masher/wooden spoon/other heavy object till the beans have melded and look similar to mashed potato.
Reduce heat to low.
In a small frypan, heat remaining olive oil over medium heat.
When warm, add the spinach and kale.
Stir continuously till the greens start to wilt.
When fully wilted and softened, add greens to the bean mix and stir to combine well.
Season with salt flakes and serve.
This dish works well as a light main meal or lunch or can be served on the side of something like chicken or steak.
Makes 4 serves – Cal per serve – 188
If you are ready to lose weight then the Lose Baby Weight plans offer a healthy and safe exercise and diet routine.
And don't forget to check out our current promotions and discounts page to see what specials we have on this week on our Healthy Mummy product range