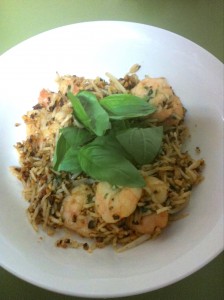 With the weather heating up, seafood is back on the menu in a big way. Delicious warm, or cold, this salad is an ideal healthy lunch or dinner alternative.
The combination of prawns for protein and brown rice for complex carbohydrates will help keep your blood sugar stable (no mid afternoon slumps with this recipe) while keeping you full for longer, essential for healthy weight loss.
The secret ingredient that makes this the ultimate dish for those watching their weight? Chilli bean paste. Packed full of flavour, this Asian sauce staple adds a touch of spice to your meal, without excess calories.
Spicy foods, like chilli bean, have also been found to cause small spikes in your metabolic rate (or how fast your body breaks down food) meaning your metabolism may temporarily speed up, a big positive when following a weight loss diet.
The spike may be small, but every little bit counts!
Ingredients
For the prawns
      500 g raw green prawns, deveined with the tail removed
      2 cloves of garlic, crushed
       1 tbsp. of flaxseed, rice bran or olive oil
      Juice of 1 lime or ½ a lemon
For the salad
       2 cups of brown rice (I use a packet of microwave rice)
      1 cup of bean sprouts (optional)
      1 cup of torn basil leaves
      ½ cup crushed peanuts
      ¼ cup lemon or lime juice
      4 tsps. of chilli bean paste (Coles and Woolworths usually stock this in the Asian food aisle but if not, you can find it in Asian supermarkets)
      2 tsps. of flaxseed, rice bran or olive oil
      Pinch of Maldon Sea Salt Flakes
Directions
       Combine prawns, garlic, ½ tablespoon of chosen oil and citrus juice. Cover with cling film and refrigerate for 15 minutes.
       Prepare rice according to packet instructions. When cooked, place in a large bowl to cool slightly.
       Heat 1/2 tbsp. of chosen oil in a large fry pan over medium/high heat and add prawn mixture. Stir fry till prawns turn pink and look cooked through then set aside in a clean bowl.
       Rinse fry pan under cool water and dry before returning to cook top.
       Heat chosen oil on high heat.
       Add the crushed peanuts and 2 tsps. chilli bean paste to pan and stir continuously until peanuts are golden in colour.
       Remove from the pan and sandwich between two sheets of kitchen paper to remove excess oil.
       Add lime or lemon juice, remaining 2 tsps. chilli bean paste and salt flakes to the pan and cook for approximately 2 minutes, or until the sauce thickens.
       Add prawns, peanut mix and sauce to rice. Scatter with bean sprouts, torn basil leaves and a squirt of lemon or lime juice.
Enjoy!
Serves 4 – Calories per serve – 480

If you are ready to lose weight then the Lose Baby Weight plans offer a healthy and safe exercise and diet routine.
And don't forget to check out our current promotions and discounts page to see what specials we have on this week on our Healthy Mummy product range