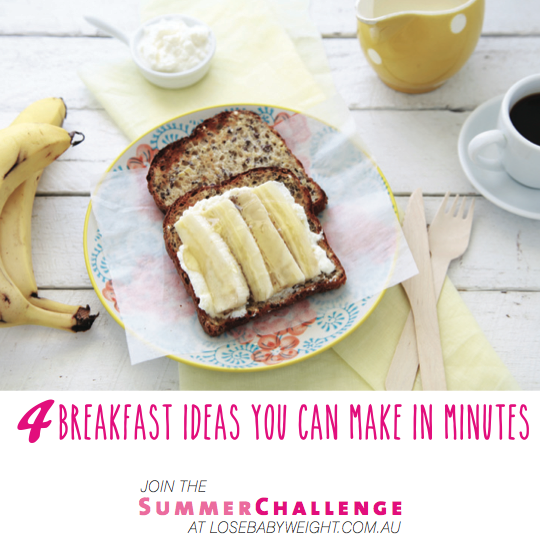 We get loads of feedback from mums asking for healthy breakfast ideas for themselves and their family.
Of course our go-to breakfast is always our Healthy Mummy Smoothie.
It's super fast to prepare, has an endless variety of flavour combinations, and keeps you full for ages.
But if you feel like cooking something up that is quick, no-fuss and delicious, look no further than these 4 great recipes below.
Breakfast is such an important meal, especially when you are trying to lose weight.
After being in bed overnight, it can often be as long as 12 hours since you last ate.
Breakfast gets your metabolism cranking for the day, gives you the energy to get moving, and helps to keep you sustained until your next meal or snack.
Good morning!
Parmesan Scrambled Eggs
Heat a frying pan over med/high heat and spray with olive oil. Whisk together 2 eggs and 1 tbsp grated Parmesan cheese. Pour into the hot pan, whisking continuously for around a minute or until cooked to your liking.
2 Ingredient Pancakes
Whisk together 2 eggs and 1 well mashed ripe banana. Spray a frying pan with olive oil over medium heat. Pour in the batter to make 4 pancakes. Flip over when the edges look done and cook the other side. Optional extras include a sprinkling of cinnamon, some vanilla essence, or a scoop of your favourite Healthy Mummy Smoothie powder.
Bananas On Toast With Spiced Ricotta (pictured)
Take 2 tbsp low fat ricotta and mix with a sprinkling of cinnamon and the zest of a quarter of an orange. Add a tsp honey if you like. Toast a slice of wholegrain bread and smear over the ricotta mix. Top with ½ a thinly sliced banana.
Overnight Oats with Berries
In a bowl, jug, mug, jar or plastic tub – place ½ cup rolled oats (not quick-cook oats), ½ cup low fat Greek yoghurt, 2/3 cup milk of your choice, and 1 tbsp chia seeds. Cover and place in the fridge overnight. In the morning, throw in ½ cup of your favourite berries and serve. Heat if desired. Makes enough for 2 serves.

GET YOUR 10% DISCOUNT
If you are ready to lose weight then the Lose Baby Weight plans offer a healthy and safe exercise and diet routine and you can get a 10% discount by using code LOYALTY at the checkout
PLUS our BEST SELLING 28 Day Diet & Exercise Plan is available as a 200pg Printed Book and you can get your copy here 
Plus our NEW CALORIE BIBLE is now available – get your copy today! Only $19.95 and a must have in your handbag!
Click HERE to see our shop