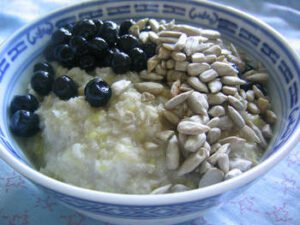 Eating within an hour of waking is crucial for consistent weight loss for women. And what you choose to eat makes a difference to how you feel and how your body deals with the calories you consume.
Did you know many cultures don't distinguish between morning and evening foods? Somehow our western culture has fallen into the false belief that a box of cereal or a fried egg and a piece of buttery toast is the only breakfast of choice (we wonder if this is one reason behind the obesity epidemic). Wrong, wrong, wrong.
And if you think you're being a weight-loss star by starting the day only with a piece of fruit, think again. You'll be starving and on a glucose-low feeding frenzy by 10am. This sets you up for a roller-coaster of blood-sugar highs and lows all day… which means weight gain!
So although in theory anything is better than nothing, but one of the ways to lose weight fast and lose tummy fat is to eat a complex breakfast so your body remains fuller for longer – so you'll ultimately eat less.
Your breakfast should include one from each the following:
a low GI whole grain (oatmeal, muesli, whole-grain English muffin, whole-grain cereal)
some protein (yogurt, low-fat milk, tofu with scrambled eggs, nut butter, fish, lean meat),
healthy fat (almond butter, cashew butter, nuts, ground flaxseed, etc), and
a fruit/vegetable (raisins, frozen berries, grapefruit, grilled veg, or banana)
Too many ingredients to choose from? Here are two examples of a great complex breakfast food for you:
A nutrient packed smoothie
Half a cup of raspberries and 1/4 of a banana
1 x tbsp of oats
200 ml of milk – use Almond/Dairy/Soy or Rice milk
2 x heaped tablespoons of your healthy mummy smoothie nutritional mix
4 ice cubes
Pop it all into a blender and blend away – a balanced and complex carbohydrate breakfast made in under two minutes
A Complex Oatmeal Breakfast Made Simply
Yes, your best weight loss friend is microwaved oatmeal. This is a tasty and filling food that will keep you going all the way until lunchtime.
Microwave your oatmeal (not the pre-flavoured kind!) with low-fat milk (or GM free soy milk)
Add walnuts or almonds and dried fruit (apricots, dates, raisins, etc.).
Add a small amount of ground flaxseed or chia seeds
Top it with fresh berries, a little cinnamon, and you're done.
And if you never have time in the mornings you can make a big batch to get you through a few days; refrigerate and heat up individual servings as you need them.
Need to stock up on Healthy Mummy Smoothies? Then see our shop here
And join our 28 Day Weight Loss Challenges here