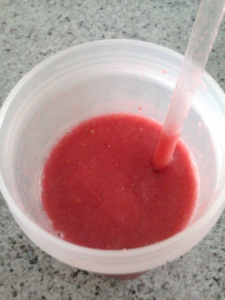 I have only been doing the Healthy Mummy smoothies for a week now, not strict as we went away for a couple of days but was impressed to have lost a total of 7cm from waist and hips.
I only got to the gym once due to my little man waking up early so put him in pram, grabbed the dog and off I went for a walk before work, I figure a 20min walk better than nothing.
I don't know what weight I have lost as my hubby hid the scales from me as I was obsessed with my weight post pregnancy.
I have had a few stressful moments lately with house hunting and binge in the evening but plan to get there.
I'm having fun looking in the fridge deciding what fruit I'll throw in the blender. This morning it was:
1 x cup of frozen strawberries
1 x  cup of apple juice
2 x tbsp of strawberry healthy mummy smoothie
Blend and yummo – Appleberry smoothie!
Also made with mixed berries and a little water tonight. As I attempt to go to gym before work I ssometimes make my breakfast smoothie before I go to bed, use juices instead of milk.
All in all, taking baby steps as I work 20hrs a week and do 99% of housework and activities (swimming lessons, etc). This would be one of the easier programs I have tried and I like the online tracking tools that keeps me on track.
Thanks
Belinda
If you are ready to lose weight then the Lose Baby Weight plans offer a healthy and safe exercise and diet routine.

And don't forget to check out our current promotions and discounts page to see what specials we have on this week on our Healthy Mummy product range