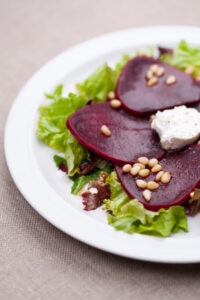 Looking for a simple, tasty salad for Christmas get togethers or summer BBQ's? Look no further than this beetroot, bean and goats cheese salad.
If you're trying to lose weight or follow a healthy eating plan during the festive season, your options for salad and other side dishes can sometimes be limited.
Greek or garden salad are delicious, but can sometimes overstay their welcome when they pop up on the table for the fifth time in a week.
Other typical summer salads, like coleslaw or store bought crunchy noodle salad rely on creamy or sugar/salt laced dressings which are best avoided when keeping an eye on the calories.
This fresh salad combines pantry staple tinned beetroot, crisp green beans and peppery rocket to give your fill of nutrient rich greens, while pine nuts add a hit of protein and crunch.
Goats cheese is often overlooked in favour of other more popular cheeses like fetta but in this salad, it adds the perfect flavour to the other ingredients. The best thing about strongly flavoured cheeses like goat? You only need a little bit to go a long way.
The dressing on this salad is also packed full of tang without the added calories. Red wine vinegar makes a nice change from old favourite balsamic, while kitchen staples olive oil and mustard add good fats and flavour.
Enjoy!
 Ingredients
1 x 400g can baby beetroots, drained and halved
1 x cup rocket leaves, washed and drained
200g green beans, topped and tailed and cooked until tender (on the stove or in the microwave)
150g goats cheese, crumbled
1/2 cup pinenuts
2 tbsp extra virgin olive oil
1 tbsp lemon juice
1 tbsp red wine vinegar
1 tsp wholegrain mustard
Olive oil spray
Directions
Spray a medium sized frypan with oil spray and heat over medium/high heat
Lightly toast pinenuts in the frypan till golden brown in colour.
Set aside on absorbent paper to cool.
Place rocket, beetroot halves and green beans in a large salad bowl.
Crumble goats cheese over the top
In a small, screw top jar, combine olive oil, vinegar, lemon juice and mustard, shake till well combined.
Drizzle dressing over the salad then sprinkle on the toasted pinenuts.
Makes 4 servings – Cal per serve – 193