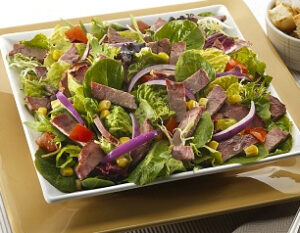 There are many recipes available when it comes to fast weight loss after pregnancy. Today, you have an ample variety of recipes to choose from and keep your palette satiated.
The number of recipes for fast weight loss post pregnancy has made the concept of dieting and healthy eating much more attractive to mums. If you are a mum who loves to get creative in the kitchen, then these new recipes will make your weight loss plan even more fun and enjoyable.
From meat to vegan dishes, there is no dearth of weight loss recipes available. You can check out our weight loss recipes to find the one's that you might enjoy making. Simple, easy and extremely quick to prepare, our weight loss recipes are designed to help you lose weight fast and in a healthy way.
If you love red meat and find yourself craving for beef, here is a healthy beef recipe that is a perfect fit in your meal plan to lose weight fast.
Beef Salad
Ingredients
2 x 100 grams Rump steaks (females) or 2 x 200 grams rump steaks (males)
Salt to taste
2 Cloves garlic, crushed
1-2 Teaspoons chili paste
2 Tablespoons olive oil
1 Small lemon or lime, juiced
1 Level tablespoon Dijon or grained mustard
2 Cups mixed salad leaves
1 Cup green beans, chopped in half
2 Spring onions, thinly sliced
1 Medium cucumber, sliced into quarter inch circles
Handful mint leaves, torn
1 Large hot green chili (optional), finely sliced
Method
Rub steaks on each side with salt, garlic and chili paste (or cracked pepper if preferred).
Heat 1 tablespoon oil in a large fry pan and cook steaks for 3-4 minutes on each side over medium to high heat for medium-rare, or until cooked to your liking. Transfer to a plate, rest for 5 minutes, then slice thinly.
Blanch green beans in boiling salted water for 2 minutes or until bright green and tender. Drain, refresh in cold running water, and then drain again.
Make dressing by adding the remaining oil, lemon juice, mustard and salt into a small jar and shake to blend.
Combine the salad leaves, green beans, spring onions, cucumber, mint, green chili and beef slices in a salad bowl, then top with dressing.
Serve immediately.
On days that you do not have the inclination to prepare your own meals, you can also opt for our Healthy Mummy smoothies. Great meal replacements, our Healthy Mummy smoothies are packed with all the right nutrients required to keep your body nourished and healthy.
If you are ready to lose weight then the Lose Baby Weight plans offer a healthy and safe exercise and diet routine.

And don't forget to check out our current promotions and discounts page to see what specials we have on this week on our Healthy Mummy product range