This is a delicious and filling healthy mummy smoothie and is also full of fibre so perfect for your inner digestive health – plus it jammed full of goodness and protein to keep you full to the brim and full of energy
We are also using Almond milk and some Almond meal (you can get from your health food shops or crush your own almonds) and almonds are excellent for your health.
Not only are they high in protein and full of Vitamin E (so great for skin, hair and nails) but they are good for your heart and can help lower cholesterol.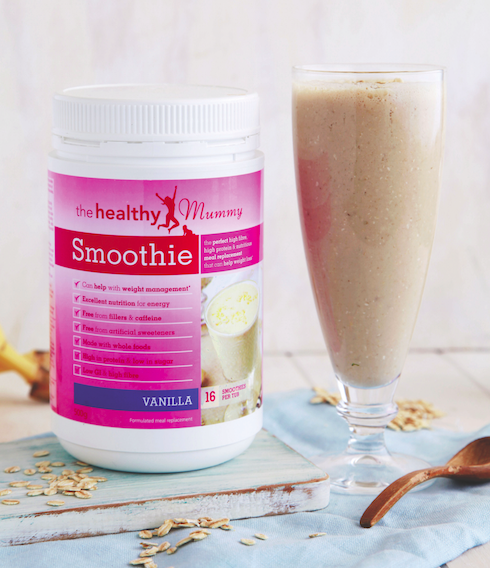 Ingredients
1 x tbsp of rolled oats
2 x tbsp of Vanilla Healthy Mummy Smoothie
1 x tbsp of almond meal
250ml of unsweetened almond milk
1 x banana
a few ice cubes
Blend for 2-3 minutes and enjoy!
Why have a smoothie for breakfast?
Our research shows that over 50% of mums skip breakfast due to being too tired to make it or not having enough time to make it.
Needless to say this reeks havoc with the metabolism, health and weight loss of mums all over the country and if mums found just 2 minutes to make a smoothie for breakfast they would feel healthier, have more energy and find weight loss a lot easier!
And why are our smoothies so different? Our healthy mummy smoothies are very different to any other traditional 'shake' and you can read all about why they are different here

Need to stock up on Healthy Mummy Smoothies? Then see our shop here
And join our 28 Day Weight Loss Challenges here