Here is a delicious Banana & Cinnamon Smoothie recipe using the
healthy mummy smoothie mix
and is also great for either using warm milk or popping into the microwave and warming up so that you have a warming hot smoothie in the cooler months.
Of course – you can still have it ice cold with ice if you prefer it that way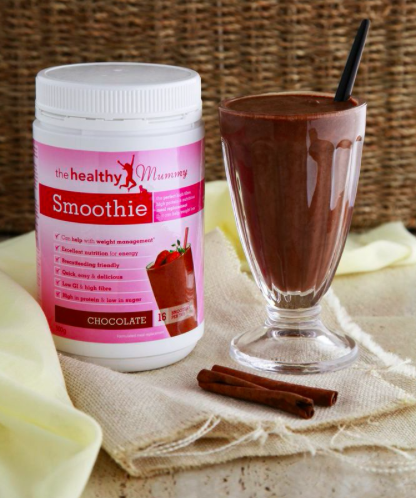 SERVES 1 – 262 calories per serve
2 tbsp chocolate Healthy Mummy Smoothie mix
1⁄2 banana
1 shake of ground cinnamon
250ml low-fat milk or low-fat chocolate soy milk
Method: Place all ingredients in a blender and mix until well combined.
Can also be made with heated milk to be drunk warm.
Handy tip: Make an extra smoothie and store it in the fridge in a sealed jar. Take it to work and shake before drinking.
GET YOUR 10% DISCOUNT
If you are ready to lose weight then the Lose Baby Weight plans offer a healthy and safe exercise and diet routine and you can get a 10% discount by using code FACEBOOK at the checkout
PLUS our BEST SELLING 28 Day Diet & Exercise Plan is available as a 200pg Printed Book and you can get your copy here 
Plus our NEW CALORIE BIBLE is now available – get your copy today! Only $19.95 and a must have in your handbag!
Click HERE to see our shop