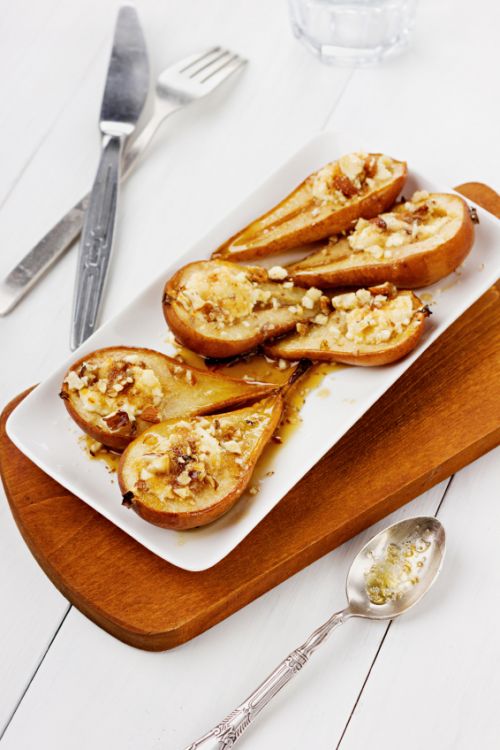 While it's no doubt easier to reach for a packet of biscuits or block of chocolate, when trying to lose pregnancy weight you need to plan ahead to satisfy sweet cravings.
By making your own desserts you can ensure your pregnancy weight loss goals aren't derailed by high calories desserts.
This low calorie, simple recipe for Baked Honey Nut Pears is a super easy dessert option to try, made with nutritious ingredients that deliver many health benefits.
Pears are a good source of fibre, vitamin C and vitamin E, while macadamia nuts are high in magnesium and iron.

Ingredients:
Quarter of a cup of chopped macadamias
3 pears, halved
6 tablespoons reduced-fat ricotta cheese
6 tablespoons honey
1 teaspoon cinnamon
Optional Extras:
Replace the macadamias with chopped almonds or walnuts
Use maple syrup instead of honey
Use apples instead of pears
Replace the ricotta with reduced-fat Greek yoghurt
Method: 
Preheat oven to 200 degrees Celsius.
Take the pear halves and place in a shallow baking tray or dish, skin side down.
Sprinkle the pears with cinnamon, then cover each pear with a tablespoon of honey.
Cover in foil and bake in the hot oven for 25-30 minutes, until the flesh is soft and cooked through.
Once cooked, remove from the oven and top each pear with a tablespoon of ricotta and the chopped macadamias
Take a spoon and remove any leftover honey sauce from the baking tray and drizzle over the top of the pears. Alternatively, drizzle a little more honey on top if desired.
Serve immediately while still warm.
Serves: 6. Calories per serve: 232
GET YOUR 10% DISCOUNT
If you are ready to lose weight then the Lose Baby Weight plans offer a healthy and safe exercise and diet routine and you can get a 10% discount by using code LOYALTY at the checkout
PLUS our BEST SELLING 28 Day Diet & Exercise Plan is available as a 200pg Printed Book and you can get your copy here 
Plus our NEW CALORIE BIBLE is now available – get your copy today! Only $19.95 and a must have in your handbag!
Click HERE to see our shop