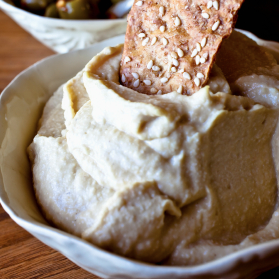 Christmas is a great time for making dips as they keep well in the fridge, are great for your healthy eating plan and are ideal for serving to unannounced guests with some warm pitta bread or raw carrots and celery.
And if you make your own version of traditional dips then you can ensure they are lower in fat and free from preservatives.
One of our favourites is Baba Ghanoush which is a Middle Eastern dip which is high in protein and calcium – so a great one for your health and taste buds.
Ingredients
1 x eggplant
1/4 of a cup of Greek yoghurt
3 cloves of crushed garlic
The juice of half a lemon or lime
1/4 tsp of ground paprika
1/2 tsp of ground cumin
2 x tbsp of tahini
Directions
Bake the eggplant and garlic in a hot oven for approximately 25 minutes until they are both cooked through and soft to touch. When the garlic and eggplant is cooled take the skin off and place the eggplant, garlic and all other ingredients into a blender and blitz until smooth. Add some sea salt to taste.
This will keep for approximately 5 days when kept in the fridge within an airtight container
And don't forget to check out our current promotions and discounts page to see what specials we have on this week on our Healthy Mummy product range.