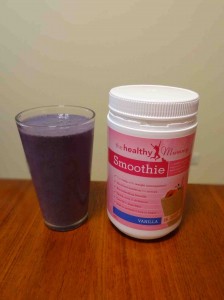 Emma Jakku has sent us this great recipe for a Healthy Mummy Smoothie.
'I've recently started using your Healthy Mummy Smoothies and I'm enjoying experimenting with different versions of the smoothies.
I've lost 3kg already too.
I thought I'd share this smoothie recipe that I came up with this morning.
It is inspired by Annabel Karmel's BOMB muffins, which my 2 year old daughter loves.'
Have you been inspired to create your own smoothie?


Ingredients:
250 ml milk (e.g. skim, soy, oat etc)
half a banana
handful of frozen blueberries
1 tbsp oats
1 tsp maple syrup
2 tbsp of Healthy Mummy Vanilla smoothie mix
Method:
Blend at high speed until well combined.
Enjoy! 

Need to stock up on Healthy Mummy Smoothies? Then see our shop here
And join our 28 Day Weight Loss Challenges here