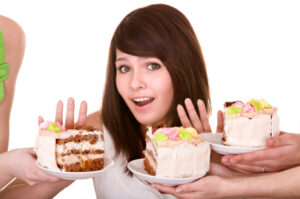 Whether you are working full time, part time, sometimes, or all the time – being in an office may not always be an ideal environment for weight loss.
Offices tend to have many rituals surrounding food and drinks, which can be hard to politely decline without feeling like a party pooper.
So what's a girl to do? Take a look at some of the most common scenarios, all of which have some tried and tested options for sticking to your weight loss goals.
The weekly birthday cake
It's always going to be someone's birthday when you work in an office. And it seems that a birthday just isn't a birthday without a calorific wedge of cake on a paper plate at 10.30am.
Your options:
Eat the cake sometimes, if you really do want it. But don't feel as though you have to consume a 500 calorie slice of mud cake (yes, you read that right) every time someone hands it to you.
Split a portion. Find a co-worker who is keen to split a piece of cake with you.
BYO snack to the kitchen. If you're tucking into a pot of healthy yoghurt while the cake is being dished out, you can politely decline as you already have your hands full.
The Friday long lunch
For many offices, the weekly pub lunch on a Friday afternoon can turn into a booze and wedges fest that derails all your good intentions.
There's nothing like a glass of wine to mark the end of the week, but you don't have to go overboard just because it's the done thing.
Your options:
Attend once a month instead of every week – and really enjoy it.
Grab a sandwich and take a walk around the shops instead
Stay back at the office and get loads done while everyone is out, and then see if you can sneak home early
Find a weight loss buddy and split a portion – most pub meals are big enough for two.
Enjoy a healthy salad or stir fry and a drink if you want one, and then discreetly slip out before you get caught up in a round of drinks.
The biscuit tin or the dreaded lolly jar
Just seeing a jar of lollies or biscuits in the office kitchen can make you feel as though you can't resist their charms.
Your options:
Tell yourself that you can have a biscuit on Fridays, and really enjoy it.
Ask the management if you can have an office fruit bowl. Seeing all that fresh fruit on display will make you want to tuck in.
Just say no, no, no. If you make it a rule for yourself that you never ever have one, there is no margin for error.
Bring in your own healthy treats for when temptation gets the better of you. Keep a packet of your favourite nuts or indulgent yoghurts at work and treat yourself when you need to.
The feeder
It seems every workplace has a generous co-worker who brings in baked goodies for the team and then doesn't eat them herself. You walk into the kitchen and the table is laden with freshly baked cakes and muffins, which he/she insists you must try.
Your options:
Avoid the kitchen when you know the cakes are at large. If you can't see them you don't need to decline them
Bring in your own freshly made (healthy) treats to share with the team
Try to encourage a friendly rivalry with co-workers to start baking healthy food to share
Desktop dining
When work is really busy it's easy to just scoff your lunch while you answer emails at your desk. But it's important to be mindful as you eat, so that you allow your body to register that it is full. This avoids over-eating and the 3pm slump that comes after a big lunch.
Your options:
Make it count. Decide that you have earned your break, and take it. If it helps, head outside to enjoy your lunch so you aren't tempted to keep working.
Bring in tasty leftovers that you look forward to eating. Heat them up and sit down in the kitchen to eat.
Find a lunch buddy and bring in healthy lunches to share – this makes your lunch break something to really look forward to.

GET YOUR 10% DISCOUNT
If you are ready to lose weight then the Lose Baby Weight plans offer a healthy and safe exercise and diet routine and you can get a 10% discount by using code LOYALTY at the checkout
PLUS our BEST SELLING 28 Day Diet & Exercise Plan has now launched as an 84pg Printed Book and you can get your copy here
Click HERE to see our shop