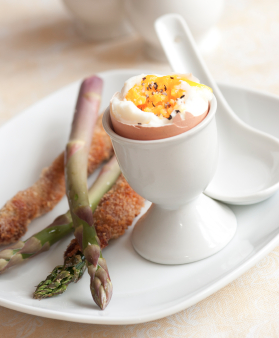 Using asparagus instead of toast in this recipe keeps the calories down but increases the nutrient and vitamin content.
It tastes delicious, too and is perfect to include in your healthy eating Lose Baby Weight plans
Ingredients
20 asparagus spears
4 eggs
¼ tsp. each chili powder and sweet smoked paprika
50g fine dry breadcrumbs
Cooking spray
Salt and pepper
Directions
Heat cooking spray in a frying pan. Add the breadcrumbs, chili powder and paprika. Toss together and fry for 2-3 minutes until golden and crisp. Set to one side and season to taste.
Bring a pan of water to the boil. Add the asparagus spears and simmer for 3-5 minutes until tender. Drain.
Place eggs into a pan of water. Bring to the boil, then immediately turn off the heat, cover and leave to sit for 10 minutes. Remove from the pan and set in egg cups.
Divide the asparagus between 4 plates, sprinkle with the crispy breadcrumbs and serve with a boiled egg.
Recipe serves 4. Calories per serving: 157, fat per serving: 6.5g.
If you are ready to lose weight then the Lose Baby Weight plans offer a healthy and safe exercise and diet routine.
And don't forget to check out our current promotions and discounts page to see what specials we have on this week on our Healthy Mummy product range