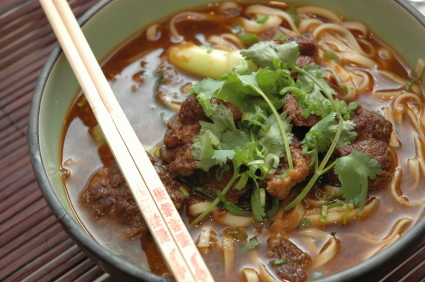 Here's a deliciously warming soup that is going to fill you right up.
The fragrant broth made from all the spices adds a delicious flavour to the simple ingredients.
Lean beef is a great source of protein which works to keep you fuller for longer.
It's also packed with vitamins and minerals, such as vitamin B12, iron and zinc.
Feel free to throw in some extra veggies when you add the bok choy, just be sure to allow enough time for them to cook.
Think strips of carrot, bean sprouts, green beans or baby corn.
You could also try the soup with 200g of prawns instead of beef. Stir the raw prawns into the soup 2 minutes before adding the bok choy.

Ingredients:
100g rice noodles
3 cups of beef stock (try to find a low salt one)
1 medium sized onion, peeled and finely chopped
Thumb size piece of ginger, peeled and finely chopped
1 red chilli, very finely sliced (optional)
1 tsp minced garlic
1 tsp cinnamon
200g lean beef strips
1 bunch bok choy, sliced lengthways
Fresh coriander, to serve
1 lime, cut into wedges, to serve
Method:
Cook the noodles according to packet directions, set aside in their water.
In a large pot bring to the boil the onion, stock, ginger, chilli, garlic and cinnamon.
Simmer for 10 minutes.
Heat a frying pan over med/high heat and brown your meat. Transfer to a plate to rest.
Stir the bok choy into the stock and cook until tender.
Drain the noodles and divide between 2 bowls. Ladle over the soup and top with the beef and coriander.
Serve with lime wedges.
Serves: 2. Calories per serve: 355.
Need to stock up on Healthy Mummy Smoothies? Then see our shop here
And join our 28 Day Weight Loss Challenges here