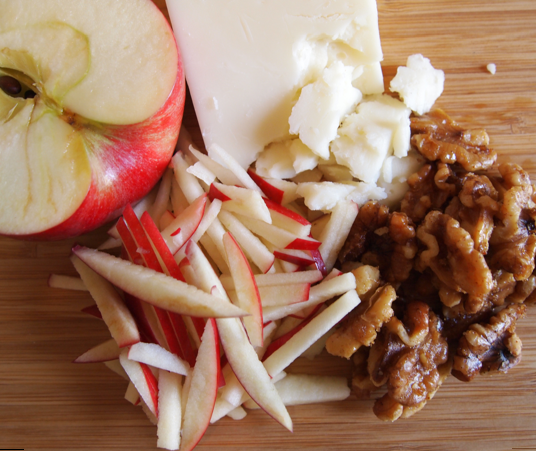 Losing your pregnancy weight doesn't have to mean that you put an end to your snacking – it just means that you have to be a little creative with your food choices.
On the Lose Baby Weight plans, one of our favourite snack ideas is chopped apple, walnuts and diced cheese – it's packed with healthy nutrients, heart-healthy omega-3 fatty acids and low-fat calcium, known for improving the health of teeth and bones and for boosting weight loss.
Plus – and this is our favourite part of all – it tastes incredibly decadent, so you don't feel like you're missing out.
Health benefits of apple
We all know apples are healthy – one medium apple contains just 53 calories and less than half a gram of fat. But apples are also packed with fibre if you eat them with the skin on, which is known to improve digestive and bowel health, further helping to control your weight.
Apples are also packed with flavonols, which have been shown to reduce the risk of certain types of cancer. Regularly eating apples could in fact reduce your risk of pancreatic cancer by up to 23%.
Certain compounds found in apple peel have also been found to prevent the growth of cancer cells in the liver, colon and breasts, while another compound can reduce the amount of cholesterol that solidifies in your arteries, reducing the risk of heart disease.
New research has also found that mums who eat apples while pregnant may reduce the risk of their child developing asthma later on in life.
Health benefits of walnuts
Walnuts are made up of a whopping 72% monounsaturated fatty acids, and eating them regularly could reduce the amount of LDL (bad) cholesterol in your body, while increasing the levels of HDL (good) cholesterol.
Eating just 25g of walnuts per day will provide you with over 90% of your RDA of omega-3 fatty acids, and research has shown that a diet rich in these anti-inflammatory fatty acids could reduce your risk of a number of diseases, including high blood pressure, heart disease, strokes, colon cancer, liver cancer and breast cancer.
DHA, a fatty acid found in walnuts, is also found to boost the growth of your baby's brain during pregnancy and whilst breastfeeding
Health benefits of cheese
Many people steer clear of cheese while dieting, but if you make the switch from full fat cheese to a low fat, low calorie extra-strong cheddar cheese, you can still enjoy all of the flavour of the cheese without the fat and the calories.
At Lose Baby Weight, we always recommend choosing an extra-strong cheddar for flavour, although you might prefer a milder cheese. Low-fat cheese could actually boost your weight loss too – research has shown that including two portions of low-fat calcium in your everyday diet could boost your weight loss by a significant amount, making low-fat cheese a great food to include in your diet.
You also need to take in plenty of calcium while breastfeeding to boost your milk production, with experts recommending that you take in at least 1000mg of calcium per day from sources like low fat cheese, yoghurt and milk, as well as tofu, salmon, broccoli and kale.
Enjoying your snack & Portion size
When snacking, you need to make sure that you eat enough to keep you going. We recommend 1 apple, around 25g walnuts (approx. 12 walnut halves) and 25g cheddar cheese, chopped into squares or grated (it makes you feel like you're eating more!)to fill you up until your next meal.
1 apple contains 53 calories, 25g walnuts 160 calories and 25g cheese around 45 calories, bringing this decadent snack in at just 258 calories.
If you want to pad this snack out into a slightly bigger meal, scatter the apple, walnuts and cheese over a bed of crunchy green salad leaves, add a little spiky chopped red onion and drizzle with a little fresh lemon juice or balsamic vinegar.
If you are ready to lose weight then the Lose Baby Weight plans offer a healthy and safe exercise and diet routine.

And don't forget to check out our current promotions and discounts page to see what specials we have on this week on our Healthy Mummy product range