Anita has been following the healthy eating diet plans from Lose Baby Weight and the 28 Day Weight Loss Challenge and including regular exercise into her week and has lost 10.5kgs.
I got on the scales this morning and I have hit 10.5 kgs gone forever thanks to this program. I am feeling pretty proud of myself at the moment despite some major events going on in my life. I really recommend the 28 Day Weight Loss Challenges – they are easy to follow and ideal for busy mums.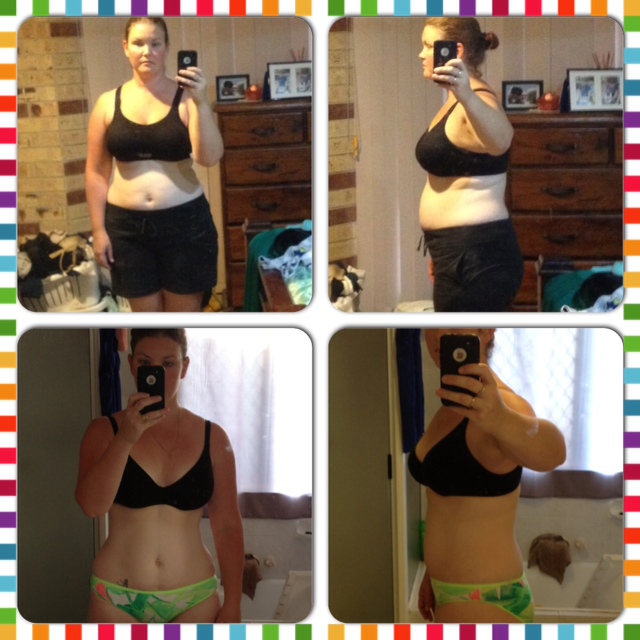 I had my 35th birthday in August and it wasn't that pleasant as I ended up with gastro!!!! But I made up for it the week after and had a birthday "do over" my beautiful hubbie took me out for lunch and instead of ordering something with chips and a dessert I had a lovely fresh beef salad. Before this program I didn't have the knowledge of what a good choice was but now I do.
I have been slowly losing weight over the month and at the end of August I actually competed in my first fun run where I "shuffled" the whole 5 kms with my husband by my side encouraging me. We have been enjoying meals both from the July Challenge and from the 28 Day Book with quite a few becoming staples.
I signed up for the September 28 Day Weight Loss Challenge excited to get more recipes and help me with some exercises that I can do in a short amount of time (which is what all mummies need!) I set myself the task of completing all of the exercises this month- as this is where I fell short in the last Challenge.

I must admit that I am behind with them this month because we have had a family emergency this week and all my effort has gone into keeping everyone on track and functioning normally. I do intend to make them up when I can doing 2 sets each day when possible. The plan is so flexible like that and I love it. I am enjoying trying the new recipes and my fave so far is the Pork (pepper) with Noodles.
I hope that the other Mummies on the program are achieving what they want- any small change is making a difference.
Yours in getting healthier,
Anita Craig
Need to stock up on Healthy Mummy Smoothies? Then see our shop here
And join our 28 Day Weight Loss Challenges here