Hi Lose Baby Weight, here are my weight loss pictures and story after being on the Lose Baby Weight Plans:
So after much consideration I have decided to bite the bullet and send in my story so far. I was and still am very nervous about the world seeing my pictures! But I would love to motivate other mummies out there with the progress!
Excuse the not so pleasant looks on my face in the photos as I wasn't expecting to share these with anyone!!! Now I wish I smiled 😉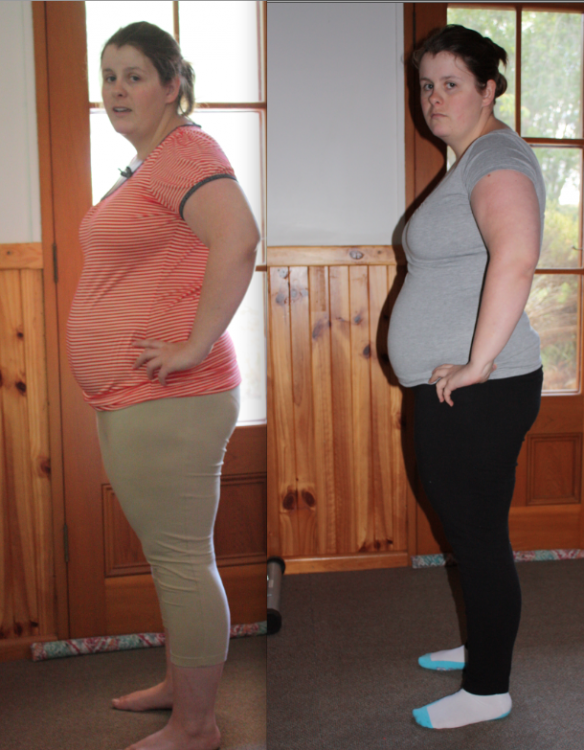 I have tried so many things, lite n easy, celebrity slim, body trim, calorie counting, etc… And yes I have seen results! But they were diets that were either super costly or hard to maintain due to the amount of protein or continuous shakes that weren't filling.
I was skeptical to fall into another trap but when I saw a friend "like" the lose baby weight facebook page I was intrigued! I too, liked the page and followed it for a week, watching the motivational stories and reading the recipes and continuous health blogs.
A week is all it took to convince me to try this new "diet" And boy am I glad I did! I have been following it now for about 4 weeks and have already lost 7.5kg. By looking at my pictures, you can tell I have a long way to go. But I wanted to share so all of you who aren't sure if you should try it, YOU SHOULD! It's not a "diet" like all of the others…
I went into it thinking it would be another diet but it's a health change. I am loving the food. I snack and eat all day it seems and the weight is falling off me. I haven't exercised and I have only had 1 healthy mummy smoothie (NOT "SHAKE") a day. I have porridge for brekkie or toast with banana! The smoothies are delicious and so filling as they arnt water and powder, they are real fruit and milk and lotssss of ice for my special frappes!
Thank you to the lose baby weight team for finally giving me the motivation to lose this dreaded weight. My baby boy is 12 weeks old now and I have so much energy for him. I am still breast feeding and I also have 3 little girls aged 7 and under.
The recipes are scrumptious and I don't even contemplate binging on food. Sometimes I find that I haven't even had my snack yet and think eeeek I have to eat, again!! I haven't felt hungry in 4 weeks. I especially love how I can enjoy baked treats in portion controls and chocolate too (dark).
I highly recommend the Lose Baby Weight program to everyone who has ever been skeptical over fad diets. And I already have recommended it to many friends as I believe weightloss shouldnt be a secret, but something that should be out there in the open for the love and support you need, and this program sure has the support! 🙂
I can't wait to keep updating my pictures and eventually be one of those mums who has lost and maintained! I have a long way to go but taking progress pictures has definately kept me motivated. Seeing the 2 together has made me realise that this is really happening and it's all so worth it 🙂
Amber Foster
GET YOUR 10% DISCOUNT
If you are ready to lose weight then the Lose Baby Weight plans offer a healthy and safe exercise and diet routine and you can get a 10% discount by using code LOYALTY at the checkout.