Dear lose baby weight, your pregnancy weight loss plans have changed the way I see food and eating and I am forever grateful.
I am writing to share my pregnancy weight loss story with the hope of inspiring any man or woman to start regaining their health.
I have struggled off and on my whole life with yo-yo dieting, terrible body image issues and therefore suffering from bouts of anorexia and bulimia from a young age and then to constantly having weight loss on my mind. I therefore had a very blurry vision of what it was like to eat properly, feel full and feel amazing.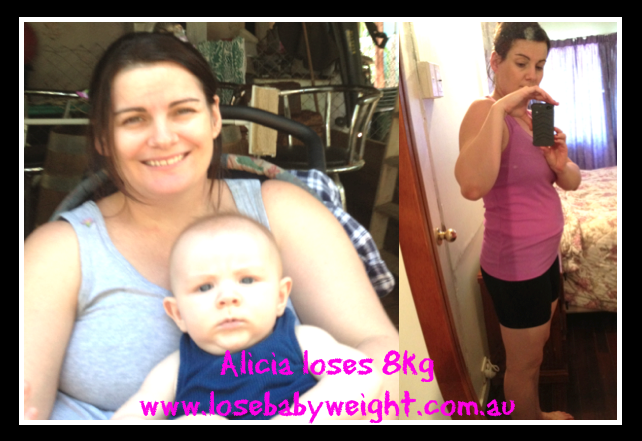 After giving birth to 3 babies over the last 5 years,  I had really "enjoyed" food and indulged whilst pregnant and breastfeeding and started each pregnancy weighing more.  I also did not want to diet too much like I did with my first as my milk supply reduced.
Approximately 8 weeks ago I decided to take control of my body again. I had gotten out of control, eating the kids leftovers, snacking on crusts and doing all the things we aren't supposed to do.
I was also beginning to get cranky at myself and not coping throughout the day. I had begun thinking about drastic/unhealthy measures to lose weight. Thanks to facebook, I stumbled across "Lose baby weight".
I had done one week of exercising and trying to eat properly( being hungry and wondering if milk supply was reducing) and bit the bullet and purchased some lose baby weight products including the 28 day plan and then started on the Healthy Mummy Smoothies
The weight loss results were almost instant, I had so much energy. I also began losing weight and my milk supply increased. In 7 weeks I lost as many kilos.
This was even with very minimal exercise as I had some surgery that has prevented me from exercising the last 5 weeks. I am now able to recommence my exercise (slowly) and know this will also help to achieve my goal weight (which  I am now halfway to).  I know I can keep going as I'm not starving myself, I am eating to fuel my body and your plans are easy to adjust so I can still eat with my family. I also love chocolate so knowing that I can have a dark chocolate almond treat helps along the way.
Your updates on facebook are a great motivational tool also. Other tools I have used is the food diary and the snack list. I visit your site daily for inspiration and motivation. I have never felt so good. I am also not as tired… even though I'm still being woken at night 🙂
If anyone is thinking of losing weight they just need to look at each kilo as their goal. I had 15 to lose and this was overwhelming. But with each kilo it reduced and now I have 7 to go which is well within my reach. So many people are commenting on my skin and how well I look. Thank you Lose baby weight. You are a godsend.
Kindest regards
Alicia Busby
If you are ready to lose weight then the Lose Baby Weight plans offer a healthy and safe exercise and diet routine.
And don't forget to check out our current promotions and discounts page to see what specials we have on this week on our Healthy Mummy product range