Aimee loves the support and planning she gets from the Lose Baby Weight healthy eating diet plans and thinks it's one of the best ways to lose weight safely and sensibly. She's lost 27kgs since starting on her new healthy lifestyle.
My Name is Aimee Hughes,
I have just celebrated my 30th birthday and I'm happy to say I celebrated it 27kgs lighter than this time last year.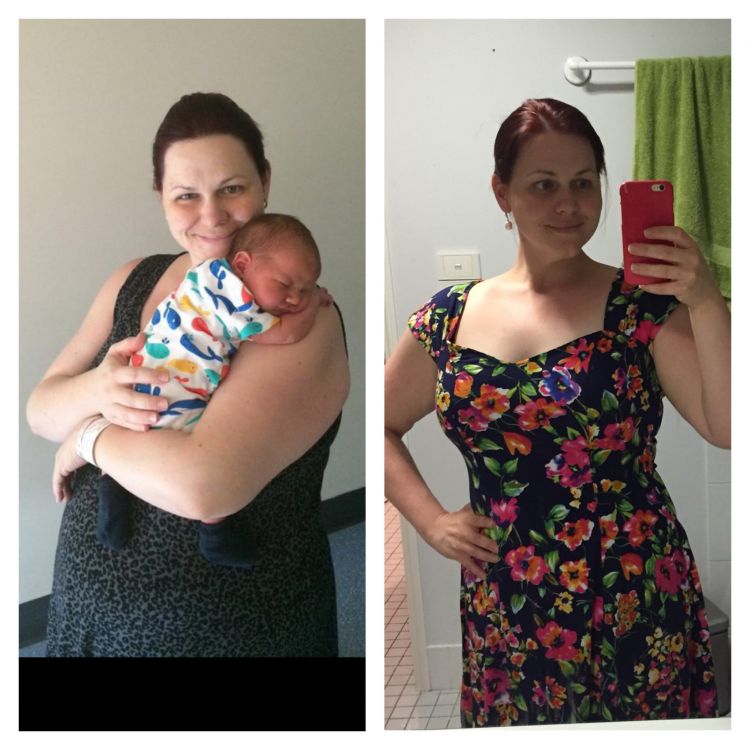 The photo on the left was two days after having my son and I was 107kg and the photo on the right , I'm happy to say is me today at 80kg.
My journey with the Lose Baby Weight program has been one of the best decisions I have ever made for myself. I have tried many many other weight loss programs and while yes I had success and lost weight I always deep down felt restricted.
The Lose Baby Weight plans have literally given me my life back –  I no longer feel restricted, I feel happy, proud and very content.
The reason for this is simple – the Lose Baby Weight plans have changed my lifestyle not just my dress size. I am armed each day with a knowledge base and confidence with my food choices that I have never had before. I no longer beat myself up and fall completely off the wagon if I have a naughty little treat, instead I pick myself up, work hard and keep going because hey I'm human and we all make mistakes!!!
The ladies in the support group are amazing, I feel very much part of a team and speaking to other mums on the same journey as me, really holds me accountable which is terrific.
Thank you from the bottom of my heart for creating such an amazing program.
I will be forever grateful 🙂
Aimee Hughes
Need to stock up on Healthy Mummy Smoothies? Then see our shop here
And join our 28 Day Weight Loss Challenges here