Wow how quickly is the August 28 Day Weigh Loss Challenge going? I'm absolutely loving it this month. The family friendly meals have been amazing and my hubby and kiddies are certainly enjoying all the yummy dinners, lunches and snacks. The 28 Day Weight Loss Challenge has come so far since I joined in October 2014. I can't believe that it's nearly two years already AND I have no plans of stopping anytime soon.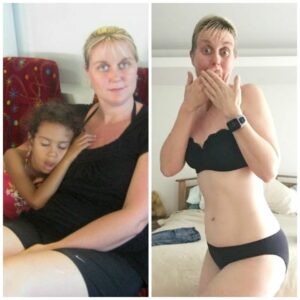 What's made this month so much easier for me is having access to the 28 Day Weigh Loss Challenge App on my phone and iPad. On a Friday evening I sit with a cuppa and customise my meal plan for the following week. Once this is done I can review my shopping list instantly and process my online shopping order. I find shopping online works for my family as we are less tempted to be swayed by the dreaded chocolates at the checkouts or the smell of that freshly baked bread which always seems to be strategically positioned right next to the fresh fruit and veg.
When preparing my meals I can simply log into my Challenge app and have my full meal planner at my finger tips. I prop my iPad up on my kitchen bench, scroll through my meal selections for the week and can easily tap on each selection and see the full recipe, quickly grab out all my ingredients and start cooking up a storm. No more flicking through pages and pages of recipe books.
The hub screen is amazing with a quick snapshot of both your meals for the day as well as the Challenge exercises. Tapping on the day of the week I can quickly access my daily exercises and head straight into toning my troublesome mummy tummy, butt and thighs. Since the app update having the timer and being able to play the demonstration video of the exercise has helped me massively as I don't always know what each exercise is technically called. My favourite challenge workout is most definitely Pilates. I find that these stretch out all my muscles from the alternate exercise that I do throughout the week.
Like I mentioned above the 28 Day Weigh Loss Challenge has come so far over the past two years and I love that we now have a challenge with a different theme each month and the app to help me keep on track and make my life that much easier. Thanks to The Healthy Mummy I have managed to not only lose 30 kilos, but I am maintaining. My family and I are eating and living a much healthier life.