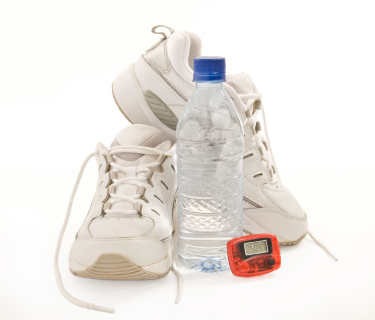 Today we have a bunch of reasons (9 in fact) why you should put your trainers on and head outside to get a sweat on.
It's a lot cheaper than a gym: the best thing about the outdoors is it's free! You can get active without spending a penny. Take a long walk in the wilderness, rump up and down some stairs near the sea, do some push ups in the park. All without spending a cent.
You're less aware of the time: when you train outside you are less likely to get into 'clock watching' mode. When you are sitting in a class at the gym there is often a big clock right in your line of sight which means you are always counting down to the end. When you are out in the fresh air, it's not long before the ever changing scenery whiles away the time and before you know it, an hour has gone by.
There is more challenging terrain: instead of a half hour ride on a stationary bike, you can feel the burn with some real hills and slopes on your bike in the great outdoors. No resistance pedal can capture the feeling of free-wheeling down a hill.
There's more to see. There are not many gyms where you can watch the sun set, or see the natural beauty of a beach. And if you've been to a busy gym lately, you'll agree that the outdoors smells a lot better too!
It makes you feel good. You get a natural high from the natural environment. Feel invigorated after an outdoor training session and you'll understand why kids love going to the park so much!
It's always open: whenever the mood strikes, you can throw your shoes on and head outside. No waiting around for your class to start or wasting time travelling to and from the gym.
You can actually get somewhere: if you are a fan of multi tasking you can fit your exercise in while you run errands. Instead of driving to the post office, why not power walk? Meeting a friend for coffee, why not jog there? Taking the kids to the park, why not all do a lap together before hitting the swings? Off for a play date, why not leave early and take a family bike ride?
It's not so busy: it's really frustrating when you want to use a certain piece of equipment and someone else is on it. It's a sure fire way to lose your momentum when training in the gym. You're less likely to hit a crowd or a queue when you are exercising outside.
You'll get the glow: is there anything better than the rosy-cheeked glow after a brisk walk? We don't think so!
See you outside!

GET YOUR 10% DISCOUNT
If you are ready to lose weight then the Lose Baby Weight plans offer a healthy and safe exercise and diet routine and you can get a 10% discount by using code LOYALTY at the checkout
PLUS our BEST SELLING 28 Day Diet & Exercise Plan has now launched as an 84pg Printed Book and you can get your copy here 
Click HERE to see our shop