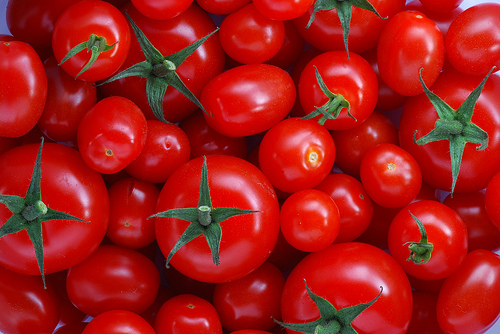 Tomatoes are a super healthy fruit, eaten as a vegetable that were actually once considered highly toxic. In fact, the exact opposite is true – they contain large amounts of vitamin C, with just one tomato providing you with 40% of your daily recommended intake, as well as vitamin A, potassium and iron.
The red pigment in tomatoes, known as lycopene, also acts as an antioxidant, neutralising free radicals that could cause damage to the body. Best of all, tomatoes are low in fat and calories and are an excellent addition to all sorts of dishes. Plus when tomatoes are cooked there are additional cancer fighting abilities – especially for fighting prostate cancer.
Simple Tomato Soup
Ingredients:
1-1.25kg ripe tomatoes
1 onion
1 celery stick
1 carrot
1 tbsp. tomato puree
2 tbsp. olive oil
2 bay leaves
1.2 litres boiling vegetable stock
Pinch salt and pepper
Method of Preparation:
Finely dice the onion, celery stick and carrot. Heat oil in a deep, heavy bottomed saucepan and add the onion, celery and carrot. Fry over a low heat for 15-20 minutes until softening and browned.
Quarter the tomatoes, removing the vines and stalks. Place into the pan with the other veggies and cook for 5-10 minutes until softened. Add the tomato puree and cook for 1-2 minutes.
Add the vegetable stock, salt, pepper and bay leaves.
Stir well and then bring the mixture to a fierce boil. Reduce to a low simmer and cook for 25 minutes, stirring occasionally.
Ladle into a food processor in batches and whiz until smooth. For a smoother texture, pass the soup through a sieve.
Recipe serves 4. Calories per serving: 123. You could also roast the tomatoes before whizzing in the food processor for extra flavour.
Tomato Salad
Ingredients:
6 large ripe vine tomatoes, deseeded
1 red onion
½ cucumber
Small handful fresh parsley
3 tbsp. extra-virgin olive oil
3 tbsp. balsamic vinegar
Salt and pepper
50g stale bread, ripped into chunks
Method of Preparation:
Finely dice the red onion and cucumber, removing excess seeds with a teaspoon.
Roughly chop the tomatoes. Combine tomatoes, onion, cucumber, parsley, olive oil, balsamic vinegar, salt and pepper, and bread in a bowl.
Cover, and leave to sit for 15-30 minutes before serving.
Recipe serves 4. Calories per serving: 160. Use croutons in place of the bread for a bit of crispiness if you prefer.
Tomato & Sage Baked Sausages
Ingredients:
1 x 400g tin chopped tomatoes
6 thin and lean pork or kangaroo sausages
3 sweet potatoes, peeled
1 small onion
Small handful sage leaves
Salt and pepper
1 tbsp. olive oil
Method of Preparation:
Thinly slice the onion. Heat the grill to medium-high. Grill the sausages for about ten minutes in a non-stick roasting dish with the onion. Stir in the tomatoes and sage, as well as a good pinch of salt and pepper. Grill for another ten minutes.
Chop the sweet potatoes into chunks. Place into a pan of cold salted water, bring to the boil and simmer until tender.
Once the sweet potatoes are tender, drain and mash with the olive oil, salt and pepper. Serve with the sausages.
Recipe serves 3. Calories per serving: 251. Add some garlic to the tomatoes for extra depth of flavour.
Lamb Kebabs with Spicy Tomato Sauce
Ingredients:
500g lean minced lamb, or lamb chops, minced at home
1 red onion
1 tbsp. each freshly chopped mint and coriander
Salt and pepper
2 x 400g tins chopped tomatoes
200g low fat Greek yoghurt
2-3 garlic cloves
1 tsp. oil
2 tsp. harissa paste (or use 1 tsp. cumin with 1 tsp. chilli powder, or use the harissa too – season this sauce depending on your tastes)
Pinch of sugar (or ½ tsp. runny honey)
Method of Preparation:
Soak 8 wooden skewers in water for at least 20 minutes.
Dice the red onion. Mix the lamb, red onion, mint, coriander and salt and pepper. Press into a sausage shape around each wooden skewer, pressing tightly to compact the meat.
Cook the sauce: mince the garlic cloves then put into a cold saucepan with ½ of the oil. Heat gently for 2-3 minutes until fragrant. Add the tomatoes, harissa, sugar, and salt and pepper and simmer for 20 minutes until thickened.
Meanwhile, heat the rest of the oil on a griddle pan. Cook the lamb skewers on either side for 3-4 minutes until browned and cooked all the way through.
Serve the lamb skewers on 4 plates with the spicy tomato sauce and Greek yoghurt spooned over.
Recipe serves 4. Calories per serving: 300. Add some extra spices to the lamb kebabs if you like, or add a freshly chopped chilli to the sauce.
Cod & Tomato Sauce
Ingredients:
4 x 175g cod fillets, skinned and boned
1 x 400g tin chopped tomatoes
Small handful fresh basil leaves, ripped
1 onion
Small handful olives, pitted and drained
Pinch each salt, pepper, sugar and paprika (omit the sugar if desired)
1 tbsp. olive oil
Method of Preparation:
Finely chop the onion. Heat the oil in a frying pan. Add the onion and cook over a low heat until softened and browned. Add the tomatoes, basil leaves, olives, salt, pepper, sugar and paprika. Cook for 10 minutes or so, stirring occasionally.
Add the fish. Cover the pan with a lid and cook for 8-10 minutes until the fish flakes easily and is cooked through. Serve.
Recipe serves 4. Calories per serving: 192. Omit the olives and add mushrooms or spinach to bulk the sauce out a bit, if you prefer.
For more tasty recipes see our 28 Day Diet & Exercise Plan