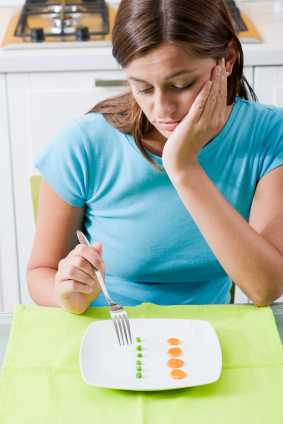 There are so many sources out there offering advice on the latest ways to lose pregnancy weight.
But with so many mixed messages, how do we know which ones to follow and which to ignore?
Today we have a look at 5 common diet myths and show how you can in fact lose pregnancy weight by not listening to them at all.
Cut out carbs to lose weight
The idea that carbs are the enemy for weight loss is simply not true. Carbs are essential for energy and muscle repair, without them we can feel exhausted.
The trouble comes when the carbs you choose are processed foods like cakes, biscuits, ice cream or lollies – these are the ones that you need to reduce your consumption of.
The 'good' carbs are things like wholegrain bread, brown rice, veggies, wholemeal pasta and healthy cereals. Enjoy these as part of your healthy eating plan and you will have sustained energy throughout the day (as opposed to a sugar high and then a crash soon after).
You will notice on the Lose Baby Weight 28 Day Plan we recommend including carbs with your meals – cutting them out leaves you feeling hungry (and sometimes a little bit cranky!) which is just not a sustainable solution for a busy mum with a family to look after as well as herself.
Don't snack after dinner
Guess what – calories can't tell the time, so it's not a big issue if you need a snack after dinner.
This is especially true if you are breastfeeding – you may find that you are more hungry than usual and you need to be taking in extra calories each day to help produce milk for your baby.
It's more important to take note of what you are eating, rather than when you are eating it.
Some great after dinner snacks are yoghurt, nuts, strawberries, a few squares of dark chocolate, herbal tea, a banana, or a home made energy ball.
Cut out fat to lose the fat
The idea is that eating foods containing fat is what makes you put on weight. If the fats you are eating are coming from cakes, biscuits, burgers, chips and sweets then this is going to be true.
But 'good' fats like those found in almonds, avocado, fish, oils and seeds are all beneficial (and in fact, essential) for a healthy body to function and lose weight.
Significantly reduce your calorie intake to reduce the kilos
Many diets suggest a very reduced amount of daily calories in order to shed the weight.
While you may in fact lose weight at first from this type of eating plan (or non-eating plan) it will often be muscle and water that you are losing as your body goes into starvation mode.
These types of diets are not sustainable in the long term – you can't continue to function normally on a heavily restricted diet. You may feel nauseous, tired, irritable and of course hungry.
On the Lose Baby Weight 28 Day Plan we recommend eating 3 main meals and 2 healthy snacks every day in order to lose weight.
By following our healthy eating plans you can make sure you don't go hungry and you will find that you can lose pregnancy weight in a safe and healthy way.
Cut out all treats including chocolate
Once again, sustaining this sort of eating plan is very difficult (if not impossible). Does that mean you can never have a piece of cake or a biscuit ever again?
While we don't suggest that you spend every afternoon with a cream bun, it is much better to allow yourself a treat now and again so that you don't feel deprived and end up binge eating.
If you tell yourself 'I can't have chocolate I can't have chocolate' it might be all that you think about.
The big difference comes from choosing to have a square or two of dark chocolate as a treat, rather than a whole family block of poorer quality milk chocolate to yourself.
You will need to exercise portion control, but deprivation is definitely not the way to lose pregnancy weight. It's all about balance, moderation and a positive attitude.
We also recommend getting support in order to lose weight, so why not join our free Eat Move Lose Challenge which launches January 1st. It's free and you can sign up here.

GET YOUR 10% DISCOUNT
If you are ready to lose weight then the Lose Baby Weight plans offer a healthy and safe exercise and diet routine and you can get a 10% discount by using code LOYALTY at the checkout
PLUS our BEST SELLING 28 Day Diet & Exercise Plan is available as a 200pg Printed Book and you can get your copy here 
Plus our NEW CALORIE BIBLE is now available – get your copy today! Only $19.95 and a must have in your handbag!
Click HERE to see our shop