Most of us want to lose weight and follow a healthy eating diet plan but many of us don't know where to start.
We have put together a few weight loss winning dinners that will be sure to please and help you with the best ways to lose weight.
And don't forget join our 28 Day Weight Loss Challenges here for the most comprehensive weight loss plan to help weight loss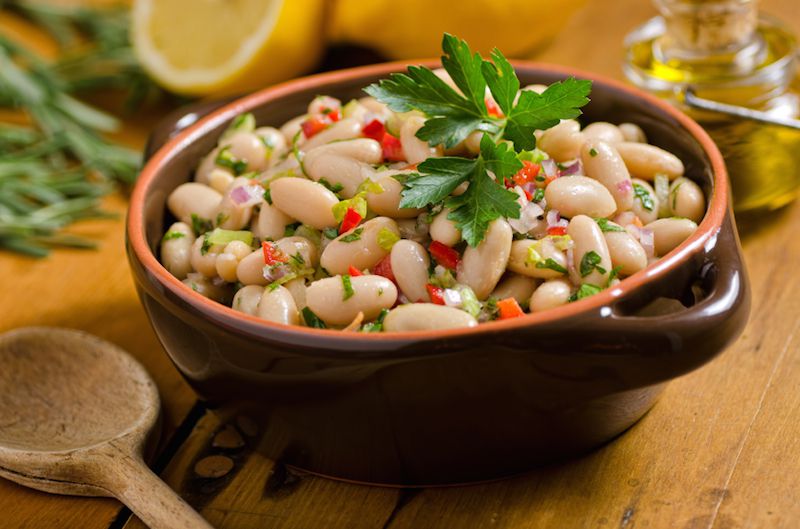 Seared Salmon and Bean Salad
High levels of the hormone leptin have been linked to slower metabolisms and weight gain. A good way to lower leptin levels is to increase your intake of fish. The oil found in fish like salmon and tuna has been shown to cut leptin levels and help your body process foods more effectively.
Ingredients:
2 piece's of Salmon, about 2 inches thick

2 tablespoons extra virgin olive oil
1 tablespoon lemon juice (or to taste)
1 garlic clove, crushed
1 tablespoon Dijon mustard
1 can cannellini beans, drained and rinsed
1 small red onion, thinly sliced
2 red capsicums, seeded and thinly sliced
1/2 cucumber, halved lengthwise and thinly sliced
6 cups watercress
Salt and pepper
Lemon wedges to garnish
Method:
Heat a ridged grill pan (preferably cast iron) coated with cooking spray over medium-high heat. Season the salmon steak on both sides with coarsely ground black pepper.
Cook the fish for 6 minutes on each side. Take care not to overcook. Remove from the pan and set aside.
Mix together the oil, lemon juice, garlic, and mustard in a salad bowl. Season with salt and pepper to taste, and add more lemon juice if needed.
Add the cannellini beans, onion, and peppers. Add cucumber to the bowl together with the watercress.
Toss gently to mix. Cut the salmon into slices about 1/2-inch thick. Arrange on top of the salad. Serve with lemon wedges. Serves 4.
Nutritional information
Calories: 335, Fat 12g, Saturated Fat 1g, Cholesterol: 37mg, Carbs 26g, Protein 32mg, Fibre: 77g
Chilli Glazed Roast Chicken with Sweet Potatoes
Skinless chicken breasts can increase your metabolic rate. This is because the digestion of protein stimulates cellular activity leading to the burning of the excess fats. Its one of the best lean protein foods to choose.
Ingredients:
4 sweet potatoes, peeled and cut into 1-inch pieces
2 1/2 tablespoons olive oil
4 red chilies, minced
2 garlic cloves, minced
2 tablespoons honey
2 teaspoons cider vinegar
1 1/4 teaspoons salt, plus additional to taste
1 teaspoon cumin
1/2 teaspoon cinnamon
6 boneless, skinless chicken breasts, rinsed and patted dry
Method:
Preheat the oven to 200 degrees. In a medium bowl, toss the sweet potatoes in the olive oil and scatter on the bottom of a roasting pan. Roast for 15 minutes.
In a small bowl, mix together the chillies, garlic, honey, vinegar, salt, cumin, and cinnamon to make a paste. Rub the paste evenly over each breast.
Place the chicken breasts on top of the sweet potatoes and roast until the chicken is just cooked through, about 25 to 30 minutes. Serve garnished with corrinder if desired.
Nutritional information
Calories 407, fat 8g (saturated fat 1.3g) 45g carbohydrate, fibre 6g, protein 38g.
Paprika Prawns & Green Bean Saute
Loaded with protein, vitamin D, vitamin B3, zinc, Omega 3, and so much more! Prawns are an excellent, carbohydrate-free food for anyone determined to shed kilos.
Ingredients:
4 cups green beans, trimmed
3 tablespoons extra-virgin olive oil
1/4 cup minced garlic
2 teaspoons paprika
2 kilos raw prawns
2 x 400g cans large butter beans, or cannellini beans, rinsed
1/4 cup sherry vinegar, or red-wine vinegar
1/2 teaspoon salt
1/2 cup chopped fresh parsley, divided
Freshly ground pepper, to taste
Method:
Bring a few centimetres of water to a boil in a large saucepan. Put green beans in a steamer basket, place in the pan, cover and steam until tender-crisp, 4 to 6 minutes.
Meanwhile, heat oil in a large fry pan over medium-high heat. Add garlic and paprika and cook, stirring constantly, until just fragrant but not browned, about 20 seconds.
Add prawns and cook until pink and opaque, about 2 minutes per side.
Stir in beans, vinegar and salt; cook, stirring occasionally, until heated through, about 2 minutes.
Stir in 1/4 cup parsley. Divide the green beans among 6 plates. Top with the prawn mixture. Sprinkle with pepper and the remaining 1/4 cup parsley.
Nutritional information
Calories 245, fat 8g, saturated fat 1g, cholesterol 115mg, carbohydrates 26g, protein 23g, fibre 8g.
Need to stock up on Healthy Mummy Smoothies? Then see our shop here
And join our 28 Day Weight Loss Challenges here