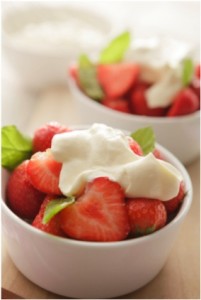 It can be easy to eat a relatively unhealthy diet whilst you're tired, busy, or sleep deprived. It's so easy to reach for pre-packaged snack foods when you're exhausted.
So it's a very good idea to have plenty of healthy snack ideas on hand. This way you can take in enough calories; have lots of energy; help to boost your metabolism in between meals; AND help you with healthy weight loss.
Here are 21 healthy snacks that are perfect for busy mums wanting to follow a healthy eating plan – such as our 28 Day Diet & Exercise Plan.

Wholegrain Cereal & Milk – It sounds so simple, but it's a great snack. Averaging at 177 calories for a bowl of wholegrain cereal with skim milk, this snack gives you plenty of complex carbohydrates which will keep your energy levels up; plus calcium and vitamins which will only improve your health. It will keep you full, too. Calories per snack: 177.
Wholegrain Crackers & Low Fat Cheese – Wholegrain in any form is a great choice, and the low fat cheese in this snack is a great way to get some calcium into your diet. Calories per snack (6 crackers and 50g low fat cheese spread): 183.
Toast with Almond Butter & Banana – One slice of wholegrain toast spread with 1 tsp. almond butter and topped with a chopped banana makes for a sweet snack, perfect at any time of the day. Almond butter will give you some healthy omega-3 fats, whilst the banana will give you some potassium. Calories per snack: 195.
Low Fat Cottage Cheese Pot with Fruit or Veggies – Low fat cottage cheese is a great snack for three reasons – it's low in fat, high in protein and high in calcium. Serve it with fresh fruit such as peaches or raspberries; or vegetable crudités such as carrot or cucumber. Calories per snack (150g cottage cheese + fruit or veg): around 158.
Mozzarella, Tomato and Basil Salad – Use low fat mozzarella for a low fat, delicious meal packed with protein, fibre and calcium. Drizzle with balsamic and sprinkle with a little freshly chopped basil, salt and pepper. Calories per snack (65g cheese, 1 tomato, small handful basil): 167.
Tuna Pita – Tuna is packed with protein and heart healthy fatty acids – and it's delicious, too! Mix 50g tuna packed in water or brine – not oil, as this ramps up the fat and calorie content – with 1 tbsp. light mayo or if you prefer, vinegar. Season and stuff into a small 6-inch wholemeal pita pocket with some crunchy cucumber for a filling snack. Calories per snack: 150.
Boiled Egg Salad – Eggs are an excellent snack as they are filled with protein. Chop a couple of boiled eggs up and mix with a tbsp. of vinegar & olive oil, a spring onion, a little chopped cucumber and a little chopped lettuce to create a yummy salad that will keep you full. Calories per snack (2 extra-large hard boiled eggs): 197.
Fruit Smoothie – Make up a batch of smoothie in the morning and pad it out with ice for extra texture. Some varieties include banana, milk and honey, mixed berry, kiwi and apple – whatever your tastes plus add in some of The Healthy Mummy smoothie mix. Calories per snack: 250-300 calories depending on fruit and ingredients used.
Almonds – For a tasty snack mix some almonds with 2 x tbsp of low fat yoghurt for a snack with crunch, texture and a bit of sweetness. Nuts also contain heart-healthy omega-3s and they are a great source of on the go protein. Calories per snack (per 22 whole kernels): 199.
Hummus & Crudités – Hummus is packed with protein and healthy fats. Serve it with a few chopped carrots sticks or sticks of celery. Pop it into a lunchbox and you can easily turn it into a portable snack, too. Calories per snack (75g hummus + veggies): 155.
Hard boiled Eggs – It's a boring snack, but it's a protein filled one. Boil two eggs and eat with a sprinkle of paprika for a high-protein, on the go snack. Make things even easier for yourself – boil eggs by the dozen, peel them and keep them in an airtight container in the fridge. They'll last for a couple of weeks. Calories per snack (two large eggs): 150.
Apple & Almond Butter – Slice an apple into wedges and spread the wedges with 1 tbsp. of almond butter  (or peanut butter) for a protein filled snack that's also high in fibre. Keep the skin on the apple for the most nutrients. Calories per snack: 181.
Sweet Potato & Salsa – Keep ready-baked sweet potatoes in the fridge and then you can pull them out, pop them in the microwave and top them with salsa or the topping of your choice at a moment's notice. Sweet potato is especially good with a mild salsa and if you like, a tsp. of sour cream. Calories per snack (1 medium sweet potato and 2 tbsp. salsa): 161.
Omelet & Cottage Cheese – Omelets take a very short amount of time to make – a couple of minutes at most, and they are filling and nutritious. Fill your omelet with a little low fat cottage cheese and if you like, some shredded onion for a bit of bite. You could also cook omelets, chill them and keep them in the fridge for a day or two until you're ready to eat them. Calories per serving (omelet made with 2 eggs served with 2 tbsp. cottage cheese): 196.
Homemade Crisps – Make crisps that are healthy by thinly slicing a potato, spritz with cooking spray and a little seasoning and bake until crisp in a hot oven. Store them in an airtight container to keep them crisp and simply reach for them when you're feeling a bit peckish. Keep the skins on to keep in the vitamins and nutrients. Calories per snack (1 medium potato): 160.
Avocado & Crackers – Avocado is a fantastic and healthy snack idea. It's packed with vitamin C, plenty of healthy mono and polyunsaturated fats and plenty of fibre. Serve with a couple of wholegrain crackers for even more fibre and protein. Calories per snack (1 small avocado and 2 wholegrain crackers): 166.
Wholegrain Toast with Cream Cheese – This is an incredibly satisfying snack that is tasty and nutritious. Make sure you use one slice of wholegrain toast. Spread with a tbsp. of low fat cream cheese and top with some spinach leaves for a yummy snack. Calories per snack: 150.
Strawberries With Dark Chocolate – This is a snack with a decadent flavour – but the flavonoids, cholesterol-reducing nutrients and feel-good factor of chocolate makes it healthier than you might think. Melt 28g of chocolate and drizzle over 5-6 medium fresh strawberries for a fresh, yummy snack. Calories per snack: 150 calories
Pita Chips & Dip – Choose a wholemeal variety of pita chips so that you get a good hit of slow-release carbohydrates to keep your energy levels up over a longer period of time. Serve with a salsa or with 2 tbsp. of low fat yoghurt mixed with 1 tbsp. chopped onion and a sprinkle of chopped chives. Calories per snack (10 large pita chips + 2 tbsp. yoghurt): 190.
Banana and Clementine – Snack on a banana and a clementine for a hit of potassium, vitamin C, fibre and plenty of other vitamins and nutrients. Great on the go snack food – and to make things even easier, prepare 3 or 4 clementines in advance by removing the skin and pith, then keep the segments in an airtight container in the fridge ready to snack on. Calories per snack: 150.
Strawberries & Yoghurt. Natural yoghurt, or the Greek style varieties are a great choice for a snack and can be eaten with fresh fruit such as strawberries, raspberries or blueberries to boost the nutritional value even further. Always opt for a natural, unsweetened yoghurt as some of the more processed varieties are packed with sugar and artificial additives. Calories per 100g low fat yogurt (Jalna) plus 6 strawberries: 170 calories.