We LOVE healthy snack ideas here at Lose Baby Weight. And we especially love snacks that are not only nutritious but also easy to prepare.
Today we have a super simple recipe that involves just two ingredients (plus hot water).
There is something so deliciously decadent about dates. Though they do contain natural sugars, they are still great to enjoy in moderation as part of your healthy weight loss.
Dates contain protein, fibre, some B vitamins (including folate), iron, calcium and potassium.
These keep well in the fridge in an air-tight container. They are a great snack for kids too.
For more of our recipes using dates, click here.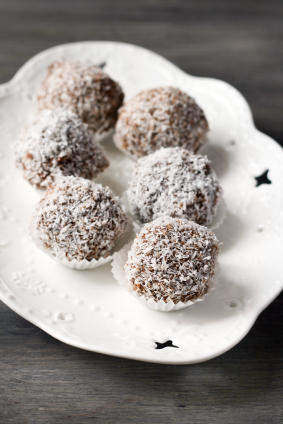 Ingredients:
12 pitted dates
6 tbsp shredded or desiccated coconut
3 tbsp hot water
Method:
Place your dates in a small shallow dish and pour over the hot water.
Allow the dates to soak up some of the water for around 15 minutes.
Meanwhile sprinkle your coconut over a large tray or plate.
Place the soaked dates into a food processor and blend until smooth.
Roll the date mix into balls and roll in the coconut.
Pop the date balls onto a tray and firm up in the fridge for an hour.
Enjoy!
Makes approximately 12 balls. Calories per ball: 70.