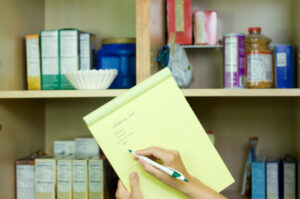 When you first commit to a weight loss and healthy lifestyle program, it can be a good idea to take stock of the kinds of food you already have in the house.
Many people often stock up on non-perishables when they're on special at the supermarket, leading to a (very) full pantry with cans and jars of ingredients you barely remember buying!
Giving your cupboards and fridge a spring clean allows you to unearth both the good, which you can keep and integrate into your new, healthy eating recipes, and the bad, which should be shown the bin or donated to your local church or food collection service.
While discarding food can feel wasteful, removing it's presence from you home and kitchen can be extremely beneficial for your health and weight loss. Not having temptation available every time you open the cupboard means that even when cravings or moments of weakness hit, you won't have the actual means to indulge.
Removing sugary, fatty, high calorie foods also means there's more room for plenty of delicious, healthy and nutritious ingredients just begging to be eaten and used in the new recipes you want to try out.
So just what should you stock your pantry with? We've compiled this helpful list to give you an idea of the kind of staples that should live in your cupboards and that can form the basis for quick and easy meals. You don't have to buy them all at once. Try adding a few new items to your basket each time you shop to begin building up your stash.
Top 15 Pantry Essentials
Pasta (wholemeal, wholegrain or buckwheat is ideal)- for super quick dinners
Low GI rice like brown or basmati – to accompany sauces and stews
Quinoa – as an alternative option to rice and pasta
Rolled oats – for porridge, slices and desserts
Low salt tomato paste – for pasta sauce and homemade pizza
Crushed tinned tomatoes – for sauces, stews, casseroles and other hot dishes
Olive oil – for frying, sauteeing and drizzling
Cooking spray – for greasing pans and trays
Low salt stock (vegetable, beef, chicken) – for soups, stews and other recipes
Tuna/salmon in spring water – for an easy lunch or dinner
Canned beans/lentils – an easy, protein-rich addition to salad and sauces
Balsamic vinegar – low calorie dressing for salads
Honey – for adding sweetness without sugar
Dried herbs – for seasoning and adding flavour without calories
Nuts – as a healthy snack and for adding to breakfast, lunch and dinner recipes
GET YOUR 10% DISCOUNT
If you are ready to lose weight then the Lose Baby Weight plans offer a healthy and safe exercise and diet routine and you can get a 10% discount by using code LOYALTY at the checkout
PLUS our BEST SELLING 28 Day Diet & Exercise Plan has now launched as a 200pg Printed Book and you can get your copy here

Click HERE to see our shop