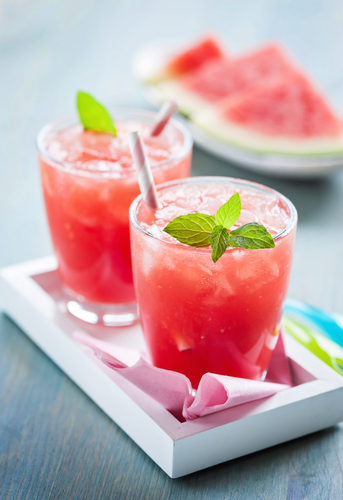 Mother Nature provides a naturally sweet option that takes very little preparation and is perfect for when you are trying to lose pregnancy weight.
For these healthy fruit cocktails you can use any blendable fruit that you like – just pop the fruit in the blender with some honey, lime juice, ice and water and puree.
Straining is optional – it depends how you like the finished product to look and feel – but it is nice to keep some of the real 'bits' in the drink too.
This produces a super low calorie, sweet, refreshing cocktail style drink that is perfect for adults and kids alike. You can still enjoy delicious treats like this, all the while you are still following your healthy eating plan.Optional extras:
add mint to the blender with fruits such as pineapple and watermelon
add basil to fruits like strawberry or honey dew
add thyme to rockmelon
add rosemary to strawberry
add a few drops of vanilla paste
add fresh ginger
add baby spinach to pineapple
add soda water or champagne to the pureed fruit (no water) for a special treat
The sky is the limit in terms of the number of combinations!
Basic Ingredients: (to fill one blender)
1½ cups chopped fresh fruit
4 cups chilled plain water
Juice of 2 limes
1 tbsp honey
Ice, to serve
Flavour Options:
Watermelon
Rockmelon
Strawberry
Peach
Nectarine
Kiwi Fruit
Honey Dew
Cherry
Pineapple
Cucumber
Pear
Blueberry
Raspberry
Method:
Place the peeled and de-seeded fruit and half of the water into the blender.
Puree until smooth.
Add the lime juice, honey and the rest of the water and blend again briefly to combine.
Pour (or strain if desired) into a large jug and chill for at least 3 hours.
Serve over ice.
Serves: 6. Calories per serve: 26 (based on using watermelon)