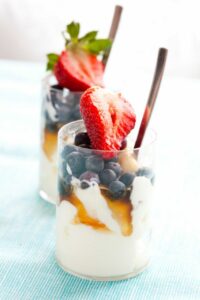 When you're following a gluten and dairy free eating plan, healthy snack planning can seem tricky, sometimes even impossible!
It can be tempting, when things seem all too hard, to fall back on old eating habits and grab whatever is food is nearest (and free from that which you need to avoid). Unfortunately, this isn't going to help your healthy weight loss!
Being prepared and having a number of healthy snacks up your sleeve when hunger strikes can mean the difference between shifting that unwanted post baby weight and having it hang around for longer.
Because we know sourcing healthy, filling snacks that are both high in protein and free from gluten and dairy can be tough, we've taken out some of the hard work for you. Here are our top 10 gluten and dairy free, healthy, high protein snacks.
Apple slices with nut butter – Half a red or green apple sliced and dipped in 1 tbsp of your favourite nut butter (we love almond and hazelnut) is a protein packed, tummy filling snack and only equates to around 130 calories
Hard Boiled Egg – It doesn't get much healthier OR protein filled than a hard boiled egg! Packed with nutrients and low in calories (80 for an average sized egg), it's the perfect snack when you're on the go.
Soy or coconut yoghurt with berries – if you're seeking something sweet, try ½ cup of dairy free yoghurt with a handful of sliced berries and a drizzle of honey. 130 calories per serve.
Spicy Toasted Chickpeas – packed with protein, chickpeas are given a flavor boost with cinnamon. Toss 50g raw chickpeas with a pinch of cinnamon and seal salt and bake for 20 minutes in a 180c oven. 110 calories per serve.
Toasted pumpkin seeds – Deliciously crunchy, pumpkin snacks are the ideal stack to stash in your handbag.  Soak 2 cups in filtered water for a 6-8 hours, pat try and drizzle with coconut or olive oil, salt and pepper. Roast in a hot oven for 50-60 minutes. 135 calories per serve.
Hummus with crudités – Sticking with chickpeas, try whizzing 50g down with a pinch of salt and pepper, olive oil, lemon juice and ½ clove of garlic to make a creamy hummus. Serve with crunchy veggie crudités. 70-80 calories per serve, depending on veggies served with.
Smashed Avocado with gluten free brown rice crackers – Avocado is a delicious way to eliminate hunger pangs! Mash ¼ of an avocado with a pinch of sea salt and some lemon juice then spread over 2 gluten free rice cakes or 4 brown rice crackers.  Approximately 270 calories per serve, depending on the type of rice crackers/cakes used.
Banana + Peanut Butter Discs – try slicing half a banana into discs and top with 1 tbsp of natural peanut butter for a sweet, filling snack. 130 calories per serve
Healthy Trail Mix – Trail mix is a fantastic, energy boosting option for busy mums. Check out our recipe HERE (and omit the yoghurt drops and replace with your favourite dried fruit or raw nut).
Healthy Chocolate – Yes, you read that correctly! While not an 'everyday' kind of snack, one of our healthy chocolates is gluten and dairy free and completely delicious. The perfect little indulgence on busy afternoon. 45 calories per chocolate.
GET YOUR 10% DISCOUNT
If you are ready to lose weight then the Lose Baby Weight plans offer a healthy and safe exercise and diet routine and you can get a 10% discount by using code LOYALTY at the checkout
PLUS our BEST SELLING 28 Day Diet & Exercise Plan has now launched as an 200pg Printed Book and you can get your copy here 
Click HERE to see our shop