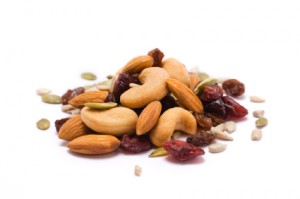 Trying to lose baby weight and follow a healthy eating plan can be challenging at the best of times.
Changing your eating habits, conquering cravings and learning a whole bunch of new recipes is hard work! Having a food intolerance or allergy can make a hard task seem almost impossible!
Research has shown that gluten intolerance is on the rise. It's estimated that approximately a million Australians are currently following a diet that restricts gluten, while 1 in 100 of us has diagnosed coeliac disease.
Whether you're limiting gluten or restricting it altogether, it can sometimes be tricky to find healthy options, particularly when it comes to snacks. While main meals are a bit more straight forward, those that we eat in between can be a veritable feast of gluten containing foods.
Healthy snacking is vital for healthy, sustained weight loss so sourcing a range of snack options is important. We've put together our pick of the best healthy gluten free snacks below.
A hard boiled egg – protein rich and low in fat, a hard boiled egg is the perfect snack on the go.
Calories – 78
Banana + Crunchy Peanut Butter – Sweet and tasty, banana with 1 tbsp peanut butter is the ultimate alternative to a chocolate bar.
Calories – 195
Guacamole + Gluten Free Rice Cakes – Full of good fats and low GI carbs, this will keep energy levels stable all afternoon. 1/4 avocado mashed with a squeeze of lemon juice and 2 rice cakes contain 170 calories.
Air Popped Popcorn – Homemade popcorn is the ultimate low calorie snack. Two cups contain just 62 calories.
Frozen Grapes – The perfect alternative to lollies, freezing grapes brings out the natural sweetness. Ideal for hot summer days.
Calories – 150g contains 93 calories.
Trail Mix – Homemade trail mix is a fabulous gluten free option for sustained energy. Try our Healthy Homemade Trail Mix recipe HERE (you may have to omit the puffed corn and/or yoghurt drops, just check the ingredients label).
Makes 6-8 servings – Calories per serve – 150
Sugar Free Jelly – If you're craving something sweet, stock up on some packets of sugar free jelly, like the Aeroplane Naturals and Aeroplane Lite range. Gluten free and low calorie with around 50 calories per serve.
Lettuce Wrap – The perfect grab and go healthy snack. Grab a large lettuce leaf, stuff it full of your favourite dip or sandwich filler (tuna, hummus and tzaziki all work well) and you're done.
Makes 1 serve – Calories per serve – 80-100
A tub of yoghurt – Natural or Greek yoghurt is a fabulously quick and easy snack. Our preferred brand, Jalna, is gluten free and comes in a variety of different flavours.
A 100g serve of Jalna Fat Free yoghurt contains 52 calories.
Gluten Free Healthy Chocolates – Chocolate can be healthy! Homemade, dark chocolate is packed with potent antioxidants. Our version is dairy and gluten free and comes in the perfect, mouthful sized portion size. You can find the recipe HERE.
GET YOUR 10% DISCOUNT
If you are ready to lose weight then the Lose Baby Weight plans offer a healthy and safe exercise and diet routine and you can get a 10% discount by using code LOYALTY at the checkout
PLUS our BEST SELLING 28 Day Diet & Exercise Plan is available as a 200pg Printed Book and you can get your copy here 
Plus our NEW CALORIE BIBLE is now available – get your copy today! Only $19.95 and a must have in your handbag!
Click HERE to see our shop