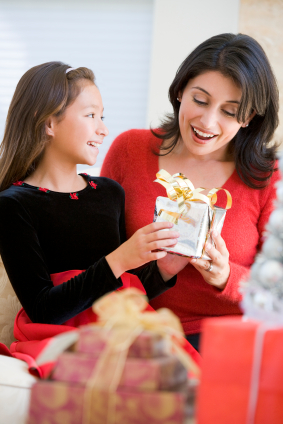 If you're like many of us, when it comes to Christmas it's all about the children.
And often when someone asks what we need or might like ourselves for Christmas we just draw a complete blank or dismiss the idea completely.
So if you need some inspiration for some great presents that would suit your healthy lifestyle, look no further!
Check out our list of 10 gifts to inspire health, wellness and vitality.

There is nothing better for your walk or jog than being able to listen to your own (daggy 80's) music. An iPod is a great way to jam all of your favourite albums into one tiny package which you can easily strap to your shorts. 80's sweat bands are an optional extra.
Whether you are a seasoned exerciser or just starting out, a good running shoe is essential to support your body as you move. Get yourself fitted at a specialist footwear store and let them know what sorts of exercise you will be doing – the staff will be able to point you in the right direction for what you need.
There is nothing better than slipping a well manicured foot into a strappy sandle over summer. A splash of colour on your toes also helps to brighten up a high heel or wedge too. So often we are on our feet for hours on end, and it is so lovely to spend some time looking after our poor soles. Plus you can zone out and read a magazine at the same time – bliss!
Whether you love Pilates, yoga, Zumba, Spin, Boot Camp – passes to your favourite class are a great gift. It will motivate you to attend just so that they don't go to waste! See if you can convince a friend to come with you once a week – this is another great way to improve your attendance record.
Healthy Mummy Spring Summer Cookbook
If you feel stuck in a same old same old cooking rut, it might be time for some new recipes to creep into your weekly repertoire. Our Summer Cookbook is jam packed with healthy salads, meals, smoothies, desserts and drinks which will have you feeling and looking your best for 2014.
Relaxing is not always on the top of a busy mother's to-do list – but if we don't take some time for ourselves every now and then we run the risk of burning out. Spend a blissful hour getting pampered with a massage or facial and come out feeling like a million dollars.
Fruit and veggie box delivery
For the busy mum who wants to save time – a weekly or one off delivery of a seasonal fruit and vegetable box can be a huge help. Often the produce is sourced locally and has been hand picked to suit the season and the weather. Plus someone else has to lug the heavy box indoors, saving you the hassle.
Sure it might be one to get from your partner or your mum – but a properly fitted sports bra is a must if you are going to be partaking in any sort of physical activity. After kids, our breasts need even more support so it's essential that you aren't using an everyday (or ill-fitting) bra to work out in. Visit a specialist store to get one that suits you perfectly.
Healthy Mummy Exercise DVD
As busy mums we often struggle to fit exercise into our day. That's why our new Exercise DVD is perfect – it's broken down into 10 and 15 minute blocks which means you can do a quick workout before the kids get up, one while they eat their lunch, and maybe one after they've gone to bed. Designed specifically for mums, this DVD is a must have for summer.
If you love your Healthy Mummy Smoothies as much as we do, you'll know the benefits of a high powered blender. The ability to easily whiz up frozen chunks of banana, mango or even ice is essential if you want to try out our new recipes for summer. If you can find one that's dishwasher safe – even better! Why not ask for a few tubs of your favourite Healthy Mummy Smoothie powder to go with it?

GET YOUR 10% DISCOUNT
If you are ready to lose weight then the Lose Baby Weight plans offer a healthy and safe exercise and diet routine and you can get a 10% discount by using code LOYALTY at the checkout
PLUS our BEST SELLING 28 Day Diet & Exercise Plan is available as a 200pg Printed Book and you can get your copy here 
Plus our NEW CALORIE BIBLE is now available – get your copy today! Only $19.95 and a must have in your handbag!
Click HERE to see our shop