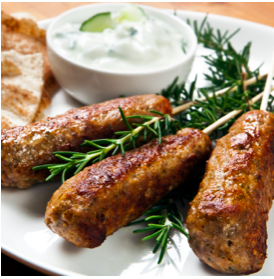 Thermies are great for grinding spices and making sauces, here, you can do both.
These Koftas are always popular around the table at our place and they make great lunchbox fillers for the next day.
Ingredients
Koftas:
500g lean lamb mince
1 tsp cumin
2 tsp coriander
2 garlic cloves
1 tbsp rosemary
Olive oil spray
Tzatziki:
1 large cucumber
1 cup Greek yoghurt
1 garlic clove
Handful of fresh mint leaves
Salt & pepper to taste
Thermie Method:
Make the Tzatziki first by blitzing the garlic & mint on speed 8 for10 sec.
Add the cucumber and blitz on speed 4 for 2 seconds, scrape down the sides and blitz again on speed 4 for 1-2 seconds.
Add the yoghurt and mix on slow speed for 10 seconds. Take out and set aside.
Next, use your Thermie to grind the spices for the koftas by putting the garlic, rosemary and cumin in and blitzing on speed 8 for 15 seconds.
Scrape out and put aside
If making your own mince in the Thermie, follow instructions in EDC.
I like to mix the meat & spices by hand, but you could do it in the Thermie by adding the spices into the meat in the Thermie and blitzing on speed 4 for a few seconds.
Divide the mixture into 8 balls.
Using wet hands, roll the balls on a board into long thin tubes.
Heat a frying pan or BBQ on high heat.
Thread the koftas onto wooden or metal skewers and spray with olive oil, or use Fun With my Thermie's homemade Ghee. Cook for around 4 mins on each side, until golden.
Serve the hot koftas on a plate with the tzatziki.
Koftas: Serves: 4. Calories per serve: 220.
Tzatziki: Serves 4. Calories per serve: 105
GET YOUR 10% DISCOUNT
If you are ready to lose weight then the Lose Baby Weight plans offer a healthy and safe exercise and diet routine and you can get a 10% discount by using code LOYALTY at the checkout
PLUS our BEST SELLING 28 Day Diet & Exercise Plan is available as a 200pg Printed Book and you can get your copy here 
Plus our NEW CALORIE BIBLE is now available – get your copy today! Only $19.95 and a must have in your handbag!
Click HERE to see our shop
Hi, I'm Sasha. I love Thermomixing Lose Baby Weight Recipes. I have a Facebook page called Fun with my Thermie http://www.facebook.com/Funwithmythermie
I'm an independent Thermomix owner, I have no association with Vorwerk or Thermomix in Australia. The recipes are not official recipes which have been tested by, or have the approval, of Vorwerk or Thermomix in Australia 
 "Thermomix" is a registered trade mark of Vorwerk International AG (Vorwerk) in Australia & New Zealand and Thermomix in Australia Pty Ltd (Thermomix in Australia) is its authorised user and exclusive distributor in Australia and New Zealand of Thermomix products. Neither company supports, authorises or endorses this site".