Hi Lose Baby Weight
I think I've put together a reasonably healthy version of the raspberry coconut slice!!  It tastes heaps yummy and reminds me a bit of Anzac biscuits too.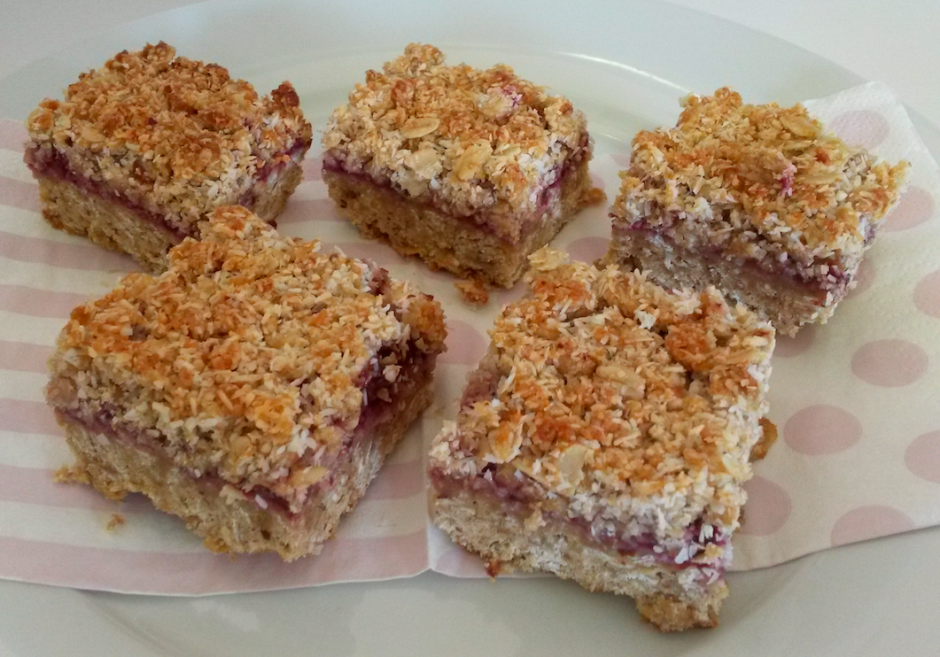 1 cup wholemeal self raising flour
1/2 cup almond meal
1 1/2 cups oats
1/3 cup coconut sugar (more or less depending on how sweet you like it)
Dash of salt
2/3 cup of melted coconut oil
1 large lightly beaten egg
2 tbls honey
2/3 cup shredded coconut
Lose Baby Weight chia berry jam

Method
Preheat oven to 180 degrees and line a 20 X 20 cm tray with baking paper.
Mix all ingredients together in a ball thoroughly, leaving coconut and jam aside.
Put 2/3rds of the mixture into the baking try and press down firmly .
Top with a layer of the jam. I used just over a cup, but can be more of less depending on taste.
With the remaining 1/3 of the mixture, mix the coconut through with a spoon or your hands. Pour evenly over the top of the slice and then press down with a spoon to help it hold together.
Bake in the oven for approx 20 minutes or until golden brown on top.
Leave to cool, then refrigerate and enjoy!!
Sent in by Candice Plant
Makes approximately 16 squares. Approximately calories per serve 180.
Every month on the 28 Day Weight Loss Challenge, we run a BRAND NEW 28 Day Menu with a different theme so you NEVER get bored! Next months theme is the SLOW COOKING! – Perfect for the chilly winter weather and still just as healthy. If you are curious about the 28 Day Challenge recipes then we have a 28 Day Challenge recipe pack for you to try HERE.